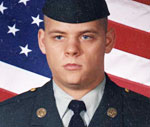 Tomorrow night at about 9:30 pm EST, Rachel Maddow will air an interview on her MSNBC show that she has done with former Guantanamo guard Army Pvt. Brandon Neely about his experiences with prisoners at the Cuba-based detention facility.
From an unfortunately not too shocking Associated Press report:
Army Pvt. Brandon Neely was scared when he took Guantanamo's first shackled detainees off a bus. Told to expect vicious terrorists, he grabbed a trembling, elderly detainee and ground his face into the cement — the first of a range of humiliations he says he participated in and witnessed as the prison was opening for business.
This reminds me of some of the important interviews that Academy Award-winning director Alex Gibney secured in his film Taxi to the Dark Side. I did an interview with one of the Bagram prison guards, Damien Corsetti (excuse the darkness of the video clip), and one of the FBI interrogators Jack Cloonan on the subject of abuse, humiliation and torture.

Very powerful clip — and I'm sure that Rachel Maddow's engagement with this young soldier will hit some of the same notes.
What is clear from Gibney's interviews and many others who have commented is the degree to which higher echelons of authority seemed to want to give the guards no formal guidance on what they should and should not do.
It's really outrageous that young guards are the ones confessing when the blame really rests with many much further up in command.
— Steve Clemons