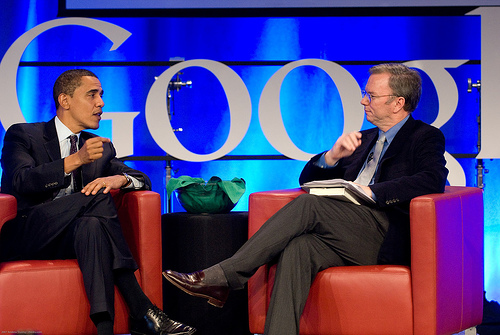 Eric Schmidt has a somewhat optimistic short op-ed in today's New York Times, "Back Online by 2010," on the economy and when it might rebound.
He thinks that bargain hunters need to have their acquisitions of deflated assets in hand before things begin to bounce back mid-2010. Fine. But this won't drive growth and won't solve the "collapse of consumption" problem we have seen in this dramatic recession.
Schmidt writes:
There are, however, steps that need to be taken to speed up the process — getting credit flowing again, taking action to create jobs, repairing our broken infrastructure and increased transparency to ensure we measure the effectiveness of the dollars we spend. And the good news is that Congress and the president are pressing ahead in the knowledge that to stand still is no solution at all.
The result, I hope, will be that by the late summer our economy will start to show signs of life, with a slowing rate of economic contraction and small but noticeable upticks in areas like auto sales and real estate.
By the end of the year, we may see some growth, with gains in employment to follow a few months later. In early to mid-2010, as banks recover and begin to lend, we should see further progress with consumers taking advantage of the once-in-a-lifetime economic opportunities emerging from this historic collapse. After all, Americans love a bargain.
I hope Schmidt is right. I would love nothing more than this financial contraction to bounce back to some normality a little over a year from now.
But I don't believe that the level of financial deleveraging we are seeing now can be turned around with quick fixes — but let's say that much of Eric Schmidt's forecast is on target. What will drive growth?
Our equation since the late 1990s is to encourage American consumers to spend more than they had. When 9/11 occurred, George Bush asked that Americans go out and "spend" and assured them that this was the way to keep the U.S. strong.
Global growth has depended on American consumers overconsuming and underproducing — while surplus economies like China, Japan and Germany wired their economies to grow by feeding the avaricious and under-resourced American economy. This was a macro-bubble that depended on fast growing economies loaning Americans the money to consume their products.
I think that Eric Schmidt is missing the vital need to get China, Japan and Germany to reorient a significant portion of their economic plans toward domestic consumption. They will, of course, continue to be strong export economies — and America will continue to import much, but we can't keep up the level of imbalance that has characterized what we have seen over the last decade.
Eric Schmidt, one of those Obama listens to, needs to make sure that as the CEO of a global firm worried about achieving globally healthy commerce and trade, he needs to add to his equation the need to rebalance global growth — particularly as we tilt towards the April 2nd G20 Summit in London.
(Truth in advertising. Eric Schmidt, CEO of Google, is Chairman of the Board of Directors of the New America Foundation where I work.)
— Steve Clemons