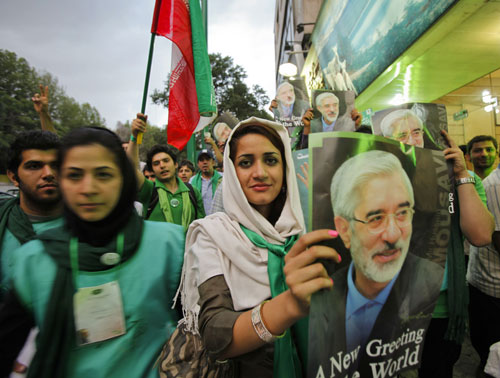 Political journalist Robert Dreyfuss has a terrific survey piece on Iran's tumultous political scene in the aftermath of recent elections there. Dreyfuss was in Tehran and is now back in Washington.
Here is a clip from "Iran's Green Wave", cover story of The Nation this week (but do read the whole piece):
Several factors combined to make Moussavi a viable candidate. First, with organizational and financial support from the Rafsanjani family and wealthy mullahs and businessmen tired of Ahmadinejad's cronies running the economy, Moussavi built a formidable countrywide campaign machine. Second, the brilliant Green Wave strategy, designed by a 27-year-old whiz kid named Mostafa Hassani, caught fire, and soon green ribbons, armbands, headbands, scarves and flags festooned Iranian cities. "I wanted something simple, something that could be replicated even by poor people in remote villages," the long-haired, lanky Hassani told me, sitting in Moussavi's cluttered campaign headquarters during election week. And then, on June 3, Moussavi electrified Iran during an unprecedented televised debate with Ahmadinejad. With the president sitting across from him, Moussavi called Ahmadinejad a liar and accused him of pushing Iran toward "dictatorship." The next day, green-wearing crowds began chanting, "Death to the liar!" and "Death to the dictator!" Nothing like it had ever been seen in Iranian politics.
Moussavi had another not-so-secret weapon: his wife, Zahra Rahnavard. A noted intellectual and sculptor, Rahnavard campaigned alongside her husband, sometimes holding his hand. Clearly a liberated woman, she called for an end to the much-despised harassment of women by the cultural police and backed equal rights for women. At a vast rally in downtown Tehran, I watched her mesmerize the crowd. "We are going to make a revolution in the revolution!" she cried. "We are going to make it modern and up-to-date!" As one, tens of thousands of people chanted: "Moussavi! Rahnavard! Equal rights for men and women!" Women in pink lipstick and with blond highlights in partly uncovered hair shouted beside women in black chadors.
And then there was the Obama factor. Countless Iranians watched his June 4 Cairo speech, and its transcript was parsed word by word. By offering to respect Iran rather than locating it in the "axis of evil," Obama appealed to secular nationalists, activists seeking greater individual freedom and businessmen hungering for an end to the sanctions strangling Iran's economy. Nearly everyone I spoke with during the ten days I was in Iran brought up Obama, whether I asked or not. At a frenzied Moussavi rally in the city of Karaj, west of the capital, I met a campaign organizer, Hojatolislam Akbar Hamidi, 48, a distinguished cleric who's known Moussavi for more than twenty years. "I listened to Obama's speech, and it made me very happy," he told me. "But we're afraid that some Iranian authorities do not understand the positive message of Obama." In interviews at polling places on election day, dozens of voters praised Obama's opening to Iran. At a Tehran mosque where hundreds of people were lined up to vote, several dozen crowded around as I asked an older woman why she supported Moussavi. When I suggested, "Perhaps Moussavi and Obama might meet someday soon?" the crowd, translating for one another, erupted in cheers, laughter and thumbs-up signs.
More prosaically, many plugged-in Iranians told me that nearly the entirety of Iran's business class is fed up with Ahmadinejad's bellicose rhetoric, and they want to put an end to sanctions. Saeed Laylaz, an economist and former official at the Ministry of Industry, said that as a result of sanctions critical sectors of the economy–including computers and information technology, oil and natural gas, and civil aviation–are suffering badly. "Ahmadinejad's is the first right-wing government since the revolution, and it has been a catastrophe," he said. "You cannot run the government with populism. You need experts. You need technocrats. You need planners." (Laylaz was arrested days after the election; he's still in detention.) To get a sense of what the business community thinks, during election week I attended a forum packed with executives at the offices of Etelaat, a liberal newspaper, where eight former ministers of oil, industry and mining slammed the government over its incompetence. Later, at Moussavi's campaign office, one of them, Mohammad Reza Nematzadeh, who was minister of industry under Khatami, told me that he'd put his business on hold to travel across the country working for Moussavi. "I'm a businessman, and I've been reluctant to get into politics," he told me over several cups of tea. "It's the desire of most of us in the business community to rebuild relations with the United States," he said. "It doesn't mean that we have to give up our independence or our dignity."
Besides reformists, students, women and businessmen, Khamenei and Ahmadinejad are losing their core constituency: the clergy. And given that Iran is a state run by the priestly class, that might prove their undoing. I spoke to a dozen or so clerics, from low- to mid-ranking mullahs to a few who'd attained the rank of hojatolislam, just below ayatollah. There are hundreds of thousands of mullahs in Iran, perhaps a hundred or more who have attained the rank of ayatollah, and just two dozen or so who have developed sufficient reputation and following to be called grand ayatollah. And more and more of them, including many grand ayatollahs, have joined the opposition. "After the television debates with Ahmadinejad, a large number of mullahs who'd been undecided went over to Moussavi," one hojatolislam told me. They were offended, he said, by Ahmadinejad's insulting attitude toward Moussavi–particularly his rhetorical assault on his wife, Rahnavard, whom he accused of falsifying her academic credentials–and his accusations against Rafsanjani and Khatami. "A president should be polite," the cleric told me. "Impolite behavior and ugliness cannot be accepted."
Another cleric, who campaigned for Moussavi in dozens of Iranian towns and cities, said that the majority of mullahs had abandoned the president. "There is a big gap between Ahmadinejad and the clergy," he told me. "Many of the grand ayatollahs are angry, because the president has taken many actions without consulting with them. They are especially unhappy because he has shown an aggressive face of Islam to the world, and Islam is not aggressive. It is a religion of peace." Some three-quarters of the grand ayatollahs in Iran support Moussavi, he told me. Ten of them sent a joint letter to Ahmadinejad, but he ignored them, he said. Several others have openly castigated the regime for its treatment of protesters.
A very well-connected mullah I talked with said that he is a friend and follower of Grand Ayatollah Hossein-Ali Montazeri. Back in the late 1980s, Montazeri was the designated successor to Khomeini as Iran's Leader, but hardliners–including Khomeini's son and a circle around Khamenei–ousted him, he told me, because of his liberal views and installed Khamenei. Through this mullah and several other intermediaries, both Moussavi and former president Khatami keep in close contact with Montazeri, as well as with many in the clerical establishment in Qom. In the wake of the election Moussavi and his supporters began organizing what they hoped would be a broad consensus among senior ayatollahs to force Ahmadinejad out or, if it comes to that, to replace Khamenei himself. "Khamenei does not deserve the position that he has," the mullah told me. "He has become a politician, and as a politician he has been corrupted." Describing Khamenei in these terms is extremely unusual, and indicates how much the Ahmadinejad-Khamenei axis has lost its legitimacy. "Khamenei has lost the support of many high-ranking clergy in Qom," declared Ibrahim Yazdi in my interview with him.
Trying to pull together this opposition is Rafsanjani, who so far has stayed behind the scenes but according to numerous reports from Iran is playing a critical role in efforts to counter both Ahmadinejad and Khamenei. The former president is chair of the Assembly of Experts, a group of more than eighty clerics who have the power, under Iran's Constitution, to appoint or dismiss the Leader. "Rafsanjani has convinced the majority of the Assembly of Experts and several dozen clerics in Qom to support an effort to overturn the election results," a well-connected Iranian told me. According to Yazdi and several other Iranian activists and analysts, at least some of the clergy want to replace Khamenei with a far more moderate, less political council of ayatollahs as a way of restoring consensus in the leadership [see Sarfaraz, "Iran's New Revolutionaries," in last week's issue]. It would in effect be the end of the Khomeini doctrine of velayat-e-faqih ("rule of the jurisprudent"), which is the underpinning of the notion of a Supreme Leader, a concept invented by Khomeini that is far outside mainstream Muslim, and even Shiite, thinking.
And I very much agree with Dreyfuss' kicker on engaging Iran and ignoring the John Bolton types who want to launch a new war. Drefuss, in fact, includes a quote from Richard Dalton who I interview in the blog post below:
If Ahmadinejad and Khamenei retain their iron grip on power, both Iran and the United States will face inevitable pressure to resume diplomacy. "On both sides, the interest in pursuing a dialogue will emerge intact," says Sir Richard Dalton, who served as Britain's ambassador in Tehran until 2006. The start of such talks might be "slightly delayed" in the aftermath of the crisis, he says, but that's hardly a tragedy.
But Obama will have to ignore calls to set a short deadline on such talks. They could easily drag on, well into the middle of next year and beyond. If talks fail to produce immediate results, the president will have to resist arguments from Israeli hardliners and their US allies to take harsh measures against Iran–including military action. Obama's earlier outreach undercut the hardliners and gave a psychological boost to Iran's reformists and to millions of Iranians who saw Moussavi as a vehicle through which to improve US-Iranian relations.
If Obama wants to support the opposition, the best thing he can do is to continue to extend his open hand to Iran.
— Steve Clemons