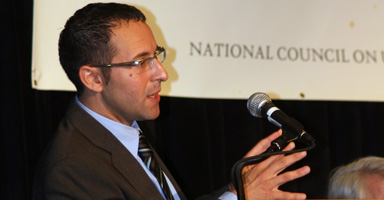 This is a guest post by New America Foundation Middle East Task Force Co-Director Daniel Levy
For many people, what has happened today between Gaza and Israel may have all too familiar a ring to it – Israel warns and then retaliates to an alleged or real Palestinian escalation of violence, there is Arab condemnation and international exasperation, eventually things de-escalate but according to Israel's timetable as the U.S. prevents effective early international mediation, and we're back to where we started – with the addition of more blood and death (many innocent, some less so), more wounded and more shattered families.
Most of those involved, often including Israel, tend to regret things not coming to a halt sooner. The Israel Defense Forces with their modern weaponry try to pinpoint targets but invariably, predictably, and painfully there are plenty of "misses"; the Palestinians – well their weaponry is by definition more crude, they use what is available and the results are correspondingly messy and indiscriminate. Bottom line – Arabs and Jews are killing each other – so what's new?
And why on earth would America want to be involved?
Here's the bad news folks – America is involved, up to its eyeballs actually. Today, after Israeli air-strikes that killed over 200 Palestinians in Gaza, the Middle East is again seething with rage.
Recruiters to the most radical of causes are again cashing in. If Osama Bin Laden is indeed a cave-dweller these days then U.S. intel should be listening out for a booming echo of laughter. Demonstrations across the Arab world and contributors to the ever-proliferating Arabic language news media and blogosphere hold the U.S., and not just Israel, responsible for what happened today (and that is a position taken, for good reasons, by sensible folk, not hard-liners).
America's allies in the region are again running for cover. America's standing, its interests and security are all deeply affected. The U.S.-Israel relationship per se is not to blame (that is something I support), the unresolved Israeli-Palestinian conflict is – and thankfully we can do something about that.
Why did today's events occur?
The list of causes is a long one and of course depends who you are asking. Here are five of the most salient factors as I see them:
(1) Never forget the basics – the core issue is still an unresolved conflict about ending an occupation and establishing an independent Palestinian state – everything has to start from here to be serious (this is true also for Hamas who continue to heavily hint that they will accept the 1967 borders).
(2) The immediate backdrop begins with the Israeli disengagement from Gaza of summer 2005, ostensibly a good move, except one that left more issues open than it resolved. It was a unilateral initiative, so there was no coordinating the 'what happens next' with the Palestinians. Gaza was closed off to the world, the West Bank remained under occupation and what had the potential to be a constructive move towards peace became a source of new tensions – something many of us pointed out at the time (supporting withdrawal from Gaza, opposing how it was done).
(3) U.S., Israeli and international policy towards Hamas has greatly exacerbated the situation. Hamas participated in and won democratic elections to the Palestinian Legislative Council in January 2006. Rather than test the Hamas capacity to govern responsibly and nurture Hamas further into the political arena and away from armed struggle, the U.S.-led international response was to hermetically seal-off Hamas, besiege Gaza, work to undemocratically overthrow the Hamas government and thereby allow Hamas to credibly claim that a hypocritical standard was being applied to the American democracy agenda.
American, Israeli and Quartet policy towards Hamas has been a litany of largely unforced errors and missed opportunities. Hamas poses a serious policy challenge and direct early U.S. or Israeli engagement let alone financial support was certainly not the way forward, but in testing Hamas, a division of labor within the Quartet would have made sense (European and U.N. engagement, for instance, should have been encouraged, not the opposite).
Every wrong turn was taken – Hamas were seen through the GWOT prism not as a liberation struggle, when the Saudi's delivered a Palestinian National Unity Government in March 2007 the U.S. worked to unravel it, Palestinian reconciliation is still vetoed which encourages the least credible trends within Fatah, and unbelievably Egypt is given an exclusive mediation role with Hamas (Egypt naturally sees the Hamas issue first through its own domestic prism of concern at the growth of the Muslim Brothers, progress is often held hostage to ongoing Hamas-Egypt squabbles).
(4) Failure to build on the ceasefire. Israel is of course duty bound to defend and protect its citizens, so as the intensity of rocket fire in 2007-8 increased, Israel stepped up its actions against Gaza. But there was never much Israeli military or government enthusiasm for a full-scale conflict or ground invasion and eventually a practical working solution was found when both sides agreed to a six-month ceasefire on June 19th 2008. Neither side loved it. Both drew just enough benefit to keep going. That equation though was always delicately balanced.
For the communities of southern Israel which bore the brunt of the rocket attacks, notably Sderot, the ceasefire led to a dramatic improvement in daily life, and there were no Israeli fatalities during the entire period (only today, following the IDF strikes did a rocket hit the town of Netivot and kill one Israeli). Israel was though concerned about a Hamas arms build up and the entrenching of Hamas rule (which its policies have actually encouraged). For Gaza the calm meant less of an ongoing military threat but supplies of basic necessities into Gaza were kept to a minimum – just above starvation and humanitarian crisis levels – an ongoing provocation to Hamas and collective punishment for Gazans. The ceasefire needed to be solidified, nurtured, taken to the next level. None of this was done – the Quartet was busy with the deeply flawed Annapolis effort.
(5) A disaster was waiting to happen, and no-one was doing much about it. There was of course a date for the end of the ceasefire – December 19th. As that date approached both sides sought to improve their relative positions, to test some new rules of the game. Israel conducted a military operation on November 4th (yes, you had other things on your mind that day), apparently to destroy a tunnel from which an attack on Israel could be launched, Hamas responded with rocket-fire on southern Israeli towns.
That initiated a period of intense Israeli-Hamas dialogue, albeit an untraditional one, largely conducted via mutual military jabs, occasional public messaging and back-channels. Again though the main reliance was on Egypt – by now in an intense struggle of its own with Hamas. When Hamas pushed the envelop with over 60 rockets on a single day (December 24th), albeit causing no serious injuries and mostly landing in open fields (probably by design), Israel decided that it was time for an escalation. That happened today – on a massive scale – with an unprecedented death toll.
Israel clearly felt it was time to make a point, there was pressure (often self-generated) to act, and don't forget that Israel is in an election campaign (the vote is on Feb 10th). Hamas too had scores to settle – not only with Israel, but it was also time to pressure Egypt, Fatah, and Arab actors who had done little to address the blockade of Gaza.
So here we are, in a dangerous escalatory cycle that is already sweeping the region, with scores of Palestinian dead, horrific images, a highly-charged blame-game and no obvious exit-strategy. Both Israel and Hamas are looking to emerge with a better deal than what previously prevailed – both are preparing their publics to take harsh hits over the coming days, weeks or even longer, and over 200 families in Gaza and one family in Israel already know what that means, first-hand.
So, what needs to happen next?
Sadly it is too late for preventive action but there is an urgent need for a de-escalation that can lead to a new ceasefire – and that will not be easy.
Useful lessons can be drawn from some very recent, and ugly, Middle East history – though it seems that to its dying day the Bush Administration is refusing to learn (today the White House called on Israel only to avoid civilian casualties as it attacks Hamas – not to cease the strikes, Secretary Rice was more measured).
In the summer of 2006 an escalation between Israel and Hezbollah led to a Lebanon war whose echoes still reverberate around the region. There were well over one thousand civilian casualties (1,035 Lebanese according to AP, 43 Israelis), thousands more injured, and other fatalities including the Israeli government which never recovered its poise, what little American credibility remained in the region (Secretary Rice was literally forced to return to Foggy Bottom as allied Arab capitals were too embarrassed to receive her) and much Lebanese infrastructure. That time it took 33 days for diplomacy to move and for a U.N. Security Council Resolution (1701) to deliver an end to fighting. The U.S. actively blocked diplomacy, Rice famously called this conflict "the birth pangs of a new Middle East" – it was no such thing, and the Middle East itself did not know whether to laugh or cry (the latter prevailed).
Just as in 2006, Israel needs the international community to be its exit strategy – and there is no time to waste. Even what appears as a short-term Israeli success is likely to prove self-defeating over a longer time horizon and that effect will intensify as the fighting continues. Over time, immense pressure will also grow on the PA in Ramallah, on Jordan, Egypt and others to act and their governments will be increasingly uneasy.
Demonstrations across the West Bank are calling for a halt to all Israeli-Palestinian talks and for Palestinian unity.
If the U.S. is indifferent or still under the neocon ideological spell then Europe, the rest of the Quartet, Arab States and other internationals must act – with a variety of players using leverage with Israel and Hamas to de-escalate. Escalation poses dangers at a humanitarian and regional-political level. International leaders should head to the region before the new year, even if the warring parties discourage it, and for some of them Gaza must be on the itinerary, the boycott (anyway unwise) is a secondary matter now. High-level visits in themselves can create a de-escalatory dynamic.
Both sides will want to land the final big punch and both will need a dignified narrative for home consumption – any ceasefire deal will have to take this into account (and this during an Israeli election campaign, with violence usually helping the right, and the centrist government desperate for an image make-over after that Lebanon 2006 debacle).
The obvious ingredients will have to be creatively re-configured for this to be possible, including ending rocket fire at Israel and removing the blockade on Gaza. New ingredients may also be necessary and while extending the ceasefire to the West Bank is (unfortunately) probably out of the question, it might be possible this time to establish a monitoring mechanism for the ceasefire. Such a mechanism could serve both sides' interests (Israel gets a more solid guarantee, Hamas gets more recognition).
There is a precedent for this – after the April 1996 Israel-Hezbollah conflict a formal Ceasefire Understanding was reached that included the establishment of a Monitoring Group consisting of the U.S., France, Syria, Lebanon, and Israel (with Syria basically acting as guarantor for Hezbollah). That mechanism proved useful and met with constructive IDF cooperation – something similar might be needed now.
In addition efforts need to be revived for achieving Palestinian national reconciliation (which itself could ease the management of the Gaza situation) and for allowing Gaza greater access to the outside world through Egypt via the Rafah border crossing.
But there is a bigger picture – and it is staring at the incoming Obama administration. Today's events should be 'exhibit A' in why the next U.S. Government cannot leave the Israeli-Palestinian conflict to fester or try to 'manage' it – as long as it remains unresolved, it has a nasty habit of forcing itself onto the agenda.
That can happen on terms dictated to the U.S. by the region (bad) or the U.S. can seek to set its own terms (far preferable). The new administration needs to embark upon a course of forceful regional diplomacy that breaks fundamentally from past efforts. A consensus of sorts is emerging in the U.S. foreign policy establishment that this conflict needs to be resolved – evidenced in the findings of a recent Brookings/Council of Foreign Relations Report or the powerful statements coming from elder statesmen like Zbigniew Brzezinski and Brent Scowcroft, themselves building on the findings of the Baker-Hamilton Iraq Study Group.
It will require tenacity and bold ideas – in framing the solution, bringing in previously excluded actors, creating mechanisms to implement a deal (such as international forces) and utilizing the Saudi-led Arab Peace Initiative – but the alternative is far worse, its what we see today and it guarantees ongoing instability in a region of paramount importance to the United States.
— Daniel Levy