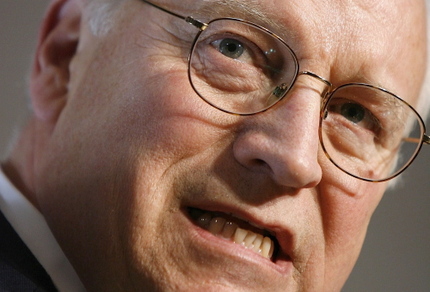 This just in from a TWN regular reader who had a White House tour:
Steve, you'll love this. Just took a tour of the West Wing. One of the pictures outside the Situation Room (apparently they change them frequently) is of Cheney with "Angler" open on his desk.
I wonder if Dick Cheney bought his copy or had one sent to him by its Pulitzer Prize-winning author Barton Gellman.
Special TWN gold stars to anyone on the White House staff who will "please — pretty please" send me a snapshot of this respective picture of Vice President Cheney.
Angler: The Cheney Vice Presidency is the book mentioned. Here is my review of the book in The American Conservative, and it makes a great Inauguration Day gift.
Update: After posting the note above, I learned this:
Days after Angler came out, Cheney spoke to a Young Presidents Organization gathering, closed press. He asked how many had read Angler.
He then recommended it, interestingly enough. Said he didn't agree with everything, and he particularly took issue with the idea that Congressional leaders were not fully on board with the NSA surveillance — but said the author did his homework.
— Steve Clemons