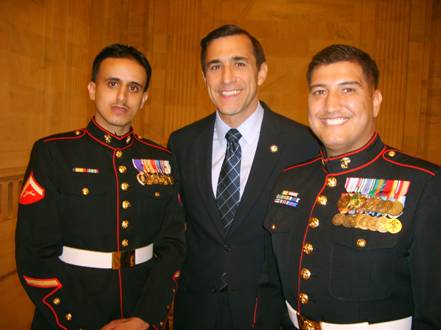 This morning, a friend of mine, Marwan Kreidie, has a passionate and smart oped in the Philadelphia Inquirer that challenges the slur that John McCain indirectly embraced when an elder woman at a McCain rally said "I don't trust Obama. . .He's an Arab."
While McCain said that Obama was a good and honest man, those terms seemed to be juxtaposed against being an Arab.
Kreidie writes:
At a campaign stop in Virginia this month, a supporter told John McCain, "I don't trust Obama. . . . He's an Arab."
The Republican candidate took the microphone away from her. "No, ma'am," he said. "He's a decent family man, a citizen that I just happen to have disagreements with."
Say it ain't so, John. Well-meaning as you may have been to Barack Obama, can you condone using Arab as a demeaning label? The exchange suggested that all Arabs should be regarded as toxic, kind of like those mortgage-backed securities threatening to topple global financial markets.
Well, I am an Arab – "you betcha" – and darn proud of it. Arab Americans descend from a people who helped civilize the world. Arabs not only made our own important contributions, from algebra to sorbet; we also preserved ancient wisdom in universities while Western civilization's Dark Ages threatened to extinguish any connection with its classical roots.
Who are Arabs? People who are native speakers of Arabic, hailing from the 22 countries that today constitute the Arab League – mostly in the Middle East and North Africa – and their descendants. Arabs are mostly Muslims, but they can be Christians. An Arab can be a blond-haired, blue-eyed, bikini-clad woman on a beach in Beirut, or a black woman wearing a traditional hijab (head covering) in southern Egypt.
Arabs started immigrating to the United States in the mid-19th century, and today, more than three million Americans can trace their heritage to the Arab world. Among them: Dr. Michael DeBakey, the famed cardiologist; Danny Thomas, the entertainer who founded the preeminent pediatric cancer research hospital, St. Jude Children's; Doug Flutie, the storied quarterback; Cabinet secretaries Donna Shalala and Spencer Abraham; and Gen. John Philip Abizaid, who led the U.S. Central Command (CENTCOM), overseeing American military operations in a 27-country region, from 2003 to 2007.
Colin Powell reached out on on Sunday to Muslims in his powerful and moving endorsement of Barack Obama — and I'm pleased to see that other national leaders are beginning to roll back the bigotry that was becoming accepted even in liberal circles about both Muslims and Arabs.
At least in one case I know of personally, a leading national Arab American Republican activist in Washington wrote a check to Barack Obama after the McCain encounter with the "Obama's an Arab" lady above.
For those who have the time, it's worthwhile visiting the Arab American National Museum in Dearborn, Michigan. It's fascinating to see the long roster of prominent Arab Americans profiled there.
One of these Arab Americans is former New Hampshire Governor and George H.W. Bush chief of staff John H. Sununu. I ran into Sununu last week at both a reception at the Embassy of Saudi Arabia and then at the annual dinner of the American Task Force on Palestine.
Sununu told me that when he ran for Governor in New Hampshire twenty-five years ago, everyone told him that he'd never win in the conservative state with a name like "SUNUNU". Then when his son, John E. Sununu, ran for and won a Senate seat in New Hampshire, the pundits said it was because of his name "SUNUNU."
Another interesting point is that Jeanne Shaheen who looks as if she is going to take that seat from the Sununu clan is married to one of the power players in New Hampshire's well-networked clan of Lebanese-Americans Bill Shaheen.
I have traveled with Bill and Jeanne Shaheen to the Middle East along with Arab American Institute President James Zogby — and I'm pleased to know that there will continue to be a Senator from New Hampshire who will stand against the increasingly worrisome trend of embedded racism and bigotry against Muslims and Arabs in a lot of our national discourse.
Bottom line. Kreidie is right. Americans need to stop tolerating bigotry against Arabs full stop.
— Steve Clemons