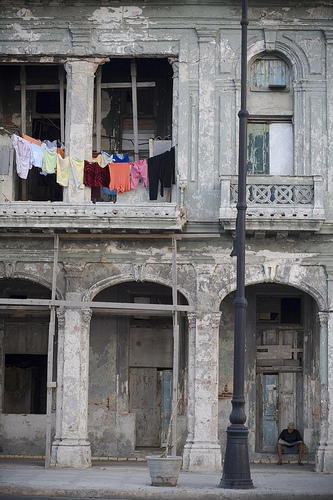 When I find myself nodding in agreement with about 75% of what Jorge Mas Santos, the Chairman of the Cuban American National Foundation, is saying in a critique of George W. Bush's wrong-headed US-Cuba policy, I know the world is changing and sense that South Florida politics may be undergoing a sea change.
I don't agree with Mas' views on regime change in Cuba, but this essay blasts John McCain for status quo-ism and embraces Obama's "flexibility" in thinking through how to turn away from failed policies.
And Sarah Stephens, Director of the Center for Democracy in the Americas, has an outstanding piece out today on the human costs of the anachronistic, failed, but painful embargo which most of the world strongly criticizes.
Here is a piece of her Huffington Post essay:
UN Members are now digesting a report compiled by the Secretary-General that measures the impact of our sanctions in chilling detail.
The embargo hurts Cuba's health care system. Last year, it forced Cuban children with heart conditions to wait for needed operations because a US-based firm, Boston Scientific, has refused – as it must, under U.S. law – to sell needed devices to Cuba's William Soler Pediatric Hospital. It prevented the purchase of spare parts for diagnostic equipment used in cancer detection, and delayed the delivery of 3 million syringes for vaccinations against communicable diseases. It forced Cuban medical authorities to buy antiretroviral drugs from secondary suppliers in grey markets, at significantly higher prices – straining an already thin public health budget.
The embargo also takes food off the table in Cuban homes, by blocking the government's access to imported seeds, fertilizers, and spare parts for farm machinery, and by imposing exotic payment rules that add tens of millions of dollars to its bill for importing food from overseas.
In other words, the sanctions we aim at Cuba's government actually hit and hurt the health and diet of the Cuban people instead.
But the embargo is more than a bilateral matter between Cuba's government and ours. US law reaches companies and countries across the globe in an effort to bend their policy to our will, rallying the rest of the world to Cuba's side
Brazil calls our policy a violation of international law. Mexico condemns the embargo as an abandonment of diplomacy. Colombia, our closest ally in the region, says of the US embargo "this kind of action should stop." The European Union, now negotiating directly with Cuba on human rights, objects to the extra-territorial reach of our sanctions. China calls on us to negotiate our differences directly with Cuba. Russia – without a trace of irony – refers to the embargo as "a remnant of the cold war."
It is no wonder that last year's sanctions vote went against America 184-4. Only Israel, Palau, and the Marshall Islands stood with us. Every one of our European allies, Canada, Japan and Australia, and nearly all of Latin America (save El Salvador, which was absent) deserted us. It will happen again this year. Already, close to one-hundred fifty countries filed statements with the Secretary General for this year's debate that bear witness to our isolation.
The funny thing about Israel voting with us on the embargo is that Israeli interests are managing citrus groves in Cuba.
— Steve Clemons