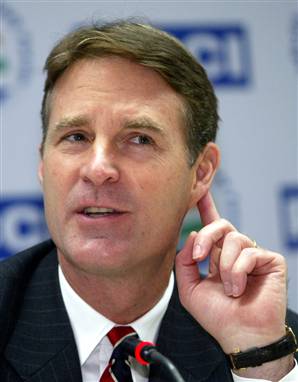 Ari Melber has just written a great summary just out in the Washington Independent on the surge of concern across the blogosphere about an Obama/Bayh ticket.
One of the most interesting parts of the piece, other than his offhand comment about me that I am "a former Democratic Senate aide who sometimes traffics in Washington rumors" (they are good rumors! — and I now run the foreign policy and economic policy divisions of a significant think tank — the senate stuff was a decade ago), is his link to a Jeffrey Goldberg Atlantic article that ran recently, "Evan Bayh, Iran Hawk."
Melber highlights an important slice of Bayh's "tilting towards war now and then" attitude in the Goldberg piece:
You just hope that we haven't soured an entire generation on the necessity, from time to time, of using force because Iraq has been such a debacle. That would be tragic, because Iran is a grave threat. They're everything we thought Iraq was but wasn't. They are seeking nuclear weapons, they do support terrorists, they have threatened to destroy Israel, and they've threatened us, too.
We don't need another Vice President who thinks that conflicts are great ways to define and sculpt presidencies. We've had enough of that.
— Steve Clemons