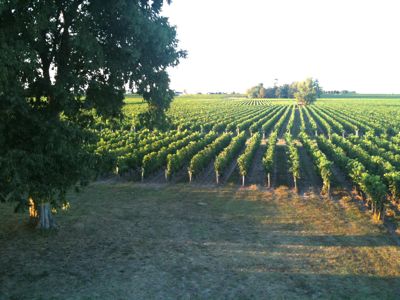 My colleague Daniel Levy and I have spent the last couple of days in the Village of Pomerol in the Aquitaine region of France discussing next steps in our Middle East policy work. September and October are going to be big roll out months for all of those engaged in the Israel-Palestine/broader Middle East quagmire.
We expect that somewhere about the 3rd week of September through the beginning of October, President Obama will put stakes in the ground on what he is going to do to take a two states negotiations process forward.
In other news, New Mexico Governor Bill Richardson is soon off to Cuba. Years ago, a friend of mine ran into Richardson walking along the beach enjoying a cigar — but we suspect that he is up to some real good down there this time and is kicking the tires on a next round of confidence building steps that the Raul Castro government might initiate in soft, untied exchange for U.S. gestures.
Suspending Radio Marti might be a great start. It's interesting to note that while Barack Obama was in the US Senate, he voted against funding Radio Marti — according to him not because he opposed the idea of broadcasting but rather because he felt Radio Marti did not work.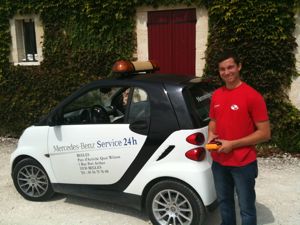 Laura Rozen, who has done superlative work in making The Cable one of the hottest foreign policy reads on line, is leaving Foreign Policy magazine's fold and joining Politico. Congratulations to Laura and Politico — though Ben Smith had a friendly salute somewhat warning her that he'd still be trying to scoop her — while linking to her too.
TWN is departing France tomorrow and is back to Washington — if my car works in the morning. The gentleman standing next to the cute little Mercedes on-the-road fix-it car was a mechanic dispatched yesterday to get my Hertz car to start as the battery had gone completely dead. I can't figure out anything I might have done to drain the battery — but seeing the car they dispatched made it all worth it.
For those of you in Asia, I will be chairing a panel and actively participating in the World Ecnomic Forum's "Summer Davos" forum taking place 10-12 September in Dalian, China. The focus of the overall meeting is on relaunching global growth and should be interesting — and depressing for those of us who would like something in the US like the high speed train link up that makes it possible for people to travel from Beijing to Tianjin in 30 minutes.
More soon.
— Steve Clemons
Continue reading:

Reading the CIA IG Report
This Just in: the 2004 CIA IG Report