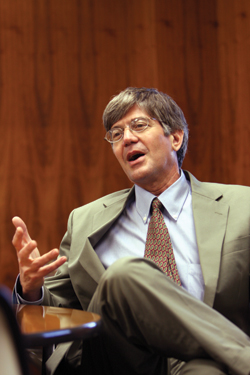 (UT Austin LBJ School Dean and potential Obama National Security Advisor candidate James Steinberg)
There are four horses out front — way ahead of everyone else who might be considered.
They are:
Brookings Senior Fellow and former Assistant Secretary of State for African Affairs SUSAN RICE, UT Austin LBJ School of Public Policy Dean and former Deputy National Security Advisor JAMES STEINBERG. Willams & Connolly trial lawyer and former special counsel to President Clinton GREGORY CRAIG, and lastly, Washington Institute for Near East Policy counselor and former Clinton Middle East envoy and negotiator DENNIS ROSS.

When I was appearing recently on a special Al Jazeera program on Obama's Middle East trip with former Israel Ambassador to the US Dany Ayalon, I watched on various screen shots James Steinberg — who preceded Carlos Pascual as head of the foreign policy division at Brookings — ably run interference and "attend" to Barack Obama during key parts of Obama's Israel trip. I guess I was surprised that he was there. Then not.
As it turns out, Obama's recent trip to the West Bank, Israel, Afghanistan, Iraq, Jordan, France, the United Kingdom, and Germany was also a time for auditions by those who might be asked by a President Obama to serve as national security advisor.
From what I have learned, all four continue to impress Obama. Some rumors place Dennis Ross — who recently led a team developing this disconcerting report on US-Israel policy coordination — in the lead. Some say that the combination of his experience and his "presentation skills" are generating 'an edge' for him.
Most of my other sources place James Steinberg out in front. My own assessment of Steinberg is that he is a shrewd thinker. He spends as much time pondering what he doesn't know as refining what he does — and that's what an NSC Advisor should do.
The complexity of the job requires someone who can work through conflicting agendas, see past them to key priorities, listen and work through 'all' scenarios, have facility with nuances — and understand equally the challenges posed today by assymetric threats, rising peer threats, the avant-garde 21st century threats of climate change and transnational disease, classic WMD proliferation threats, and the threat represented by America's own implosion of global power — at least in the perception of many other key global stakeholders.
I'm told by quite a number of Obama Team members that Steinberg currently is in the lead as best they can tell.
I wouldn't count Susan Rice and Gregory Craig out yet — but just reporting what I have heard. There is a lot of time yet for this decision — and it could be best to wait for Ross or other frontrunners to trip up.
It is useful to look back at what I considered then was a pivotal article in the Iraq debate co-authored by James Steinberg and Michael O'Hanlon calling for withdrawal from Iraq in May 2004. While O'Hanlon's views have significantly changed, I have been told by Steinberg that his views have not changed at all. That gives me great confidence in him.
— Steve Clemons
Continue reading:

Squashed by Tank
Saying Goodbye to Peter