Here is the clip from my chat with Keith Olbermann of MSNBC's Countdown last night. I thought it was a very good exchange — though I was more long-winded than usual (. . .I know, that's not such an unusual thing).
One thing I had hoped to get into but we ran out of time was to talk about how valuable it really is to have both Barack and Michelle Obama out connecting with various of the world communities in the way they are doing. Early on, I was a bit dismissive of the impact of an "Obama Bubble" — and the celebritization of the President.
But looking at this, one of the things that George W. Bush undermined with his high swagger approach to much of our diplomacy was the belief that America could be greater. The Bush administration punctured the mystique of America in the world by showing limits and real faults in our economic, military, and moral capabilities and position — but mystique is more than just substance actually.
And it is going to take a while to rebuild the kind of global trust that average people around the world had in us. I think that Obama — and his wife Michelle — are doing a lot to get us out of the red in terms of global expectations of the country.
— Steve Clemons
Editor's Note and Update: Last night I helped host a dinner featuring former National Security Advisor Zbigniew Brzezinski and international law expert and Chair of the UN-affiliated International Peace Institute Rita Hauser. The dinner was entirely off the record, but I can't urge the Obama administration enough to spend time with these two thoughtful strategists. Both of them disagreed to some degree on what America's priorities in the Midele East should be — but when pushed hard (by me in one case), Rita Hauser — who is a hard core realist but believes in progressive international objectives — outlined a serious plan for Israel/Palestine possibilities that was quite impressive. Brzezinski should be George Mitchell's secret secret envoy in my view — or at least one of several.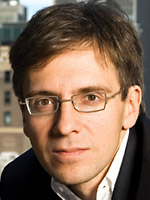 On other fronts, today I am joining a small lunch with the foreign minister of the UAE — which I'm sure will be on background, and I will be unfortunately missing this interesting meeting, "The Rise of Global Political Risk" at the New America Foundation with global economic strategist Ian Bremmer on his new book The Fat Tail: The Power of Political Knowledge for Strategic Investing.
Ian Bremmer is one of the smartest futurists I have run across. He has a knack for conceptualizing social and political trends and turning them into probabilities and equations that are not only valuable for "investors" but also help give strategists new layers of onion skin that can be peeled back when visioning future geopolitical scenarios. I have known Bremmer for years now and am a fan of his and his team's cutting edge work. It is interesting that David Gordon — who used to serve as Vice Chair of the National Intelligence Council and was the immediate past Director of Policy Planning at the State Department — is also now part of Ian Bremmer's Eurasia Group.
The program with Ian Bremmer will stream live on this blog between 12:15 and 1:45 pm EST time today. Folks in DC are welcome to attend as it is free and open to the public. Information here.
More later.
— Steve Clemons