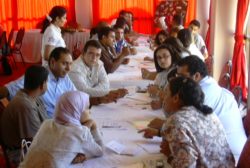 On International Youth Day, which was August 12th this year, The Hill published an essay of mine about why the aspirations of youth in the Middle East, particularly Arab youth, matter to America and other global stakeholders.  I open by commenting about the horrible set of brutal murders by Hamas militants and in return by Israeli settler radicals that are profiled in an outstanding new HBO series, Our Boys, and I try to offer the foil of what Arab youth really want in their futures and are thus far not getting.
From the essay:  "Religion, tribe, place, all contribute to ongoing trauma in the Middle East — between Sunnis and Shias, between the privileged and the demeaned, between Jews and Arabs and Christians, between pragmatists who want things to improve and ideologues and fanatics who can't see a way to live beyond their respective obsessions.
But there is hope, and we should be aware of what Arab youth actually want, particularly the desire of having less religious influence over their choices and lives.  There is a comprehensive study that has surveyed annually how these youth see their circumstances.
Again from the article:  Among the findings of the annual ASDA'A BCW Arab Youth Survey, a research study involving more than 3,300 face-to-face interviews of Arab men and women ages 18-24 from across the region, are a deep desire to lessen religious control and determination of their lives. The study included interviews of youth from Bahrain, Kuwait, Oman, Saudi Arabia and the United Arab Emirates (UAE), Algeria, Egypt, Libya, Morocco, Tunisia, Iraq, Jordan, Lebanon, the Palestinian Territories and Yemen. This year, Qatar and Syria surveys were not included. There was equal gender participation in the project, and a geographic breakdown of interviews within these countries is available at the website of the 2019 report.
Hope you find a constructive contribution to our understanding of the Middle East, as its increasingly clear that what happens there in the future will impact America.
— Steve Clemons