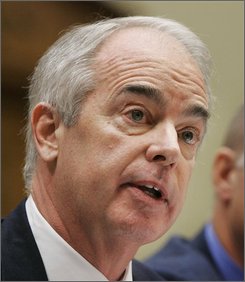 The Brussels Forum, which I just left this morning to return to Washington, DC, convened a terrific array of policy and political talent from both sides of the Atlantic — and had a distinguished group of attendees from Russia and Japan as well.
But one of the people most talked about behind his back was Duke Energy CEO Jim Rogers.
People were stunned by his candor and apparent strong commitment to climate change action. His first line when he spoke at the Forum yesterday was to tell the audience to focus on the numbers 3, 12, and 41.
He said that Duke Energy was the third largest emitter of carbon in the United States and the twelfth in the world — and if considered an independent nation, Duke Energy would be 41st in the world — so carbon emissions is a huge issue for him and his firm and wants to turn that around.
The video is available on the Forum's website. Unfortunately, the German Marshall Fund does not provide direct URL permalinks to any of its content on the Brussels Forum site and you have to wade through other material to watch — but it's well worth the time.
— Steve Clemons
Continue reading:

Meltdown?
Senate Plane Grounded in Newfoundland — Would Not Start