Many of the most senior members of the foreign policy Illuminati assembled in London last week, and neoconservative high priest Robert Kagan and neo-realist national security strategist Kurt Campbell had a collision that simply must be recorded for posterity.
The context was a dinner and then a conference featuring an intellectually and politically diverse crowd discussing the turbulent currents at play in the international system.
The dinner was held at the official residence of outgoing Ambassador of Germany to the UK Wolfgang Ischinger (he previously served in Washington as Ambassador) and featured special guests CENTCOM Commander-nominee David Petraeus and U.S. Ambassador to Iraq Ryan Crocker. The sponsor of the night was the new European Council on Foreign Relations whose executive director Mark Leonard is tying up European leaders in a new and important exercise in national security consciousness-raising.
I'm going to save what I learned about the Petraeus/Crocker exchange with people like Princeton University Woodrow Wilson School Dean Anne-Marie Slaughter, her colleague G. John Ikenberry (see his note below), UT Austin LBJ School Dean and former Clinton administration Deputy National Security Adviser James Steinberg and many others for another post. I was not in attendance (and thus am under no obligation to keep anything off the record, which I fastidiously adhere to when in such meetings) — and have had to pull teeth and twist the arms of quite a few sources to piece together the content of the discussion.
The next day a conference in London was held sponsored principally by the Princeton Project on National Security that launched a report, "Forging a World of Liberty Under Law, U.S. National Security In The 21st Century" a year and a half ago.
But here's the zinger.
Sources report to me that Center for a New American Security CEO Kurt Campbell was sitting near Robert Kagan at the Ischinger dinner.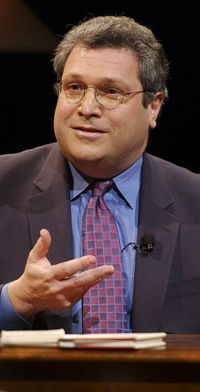 Kagan it should be noted has recently encouraged the Bush administration to engage in direct talks with Iran (in contrast to John Bolton who has been encouraging an expeditious bombing campaign) and has written an interesting essay on the new ideological contest afoot in the international system in which America will once again need to contrast itself and its norms and habits against those of illiberal regimes like Russia. Given Kagan's big leap on Iran, one shouldn't be blamed for thinking that Kagan was on a new track and that he might want to do stuff like shut down Guantanamo and get the U.S. to try out a little more Venus and a little less Mars.
So, it wasn't surprising to everyone there that Kurt Campbell felt comfortable next to Kagan saying that "despite Europe's best efforts and wishes, the neocons were not dead."
Campbell said that the "neocons were alive and well in the McCain camp" and then said that some people had a tough time searching for the right analogy to describe neoconservatives.
He said that he had heard some people call them "vampires and werewolves but these were both imperfect."
Campbell said "you can kill a vampire with a perfectly placed silver bullet, unlike a neocon — and the werewolf paradigm is wrong because werewolves are fine during the day but do crazy things at night."
"Neocons do crazy things at any time," Campbell reportedly said to much laughter.
Then, on a roll, Kurt Campbell said that "a better analogy was 'intellectual special forces' — highly trained, confident, ninja-like, working well in small teams but always seeking to define the terrain of conflict."
"They will not stand and fight if things go poorly but instead will search for a better battle," Campbell advised.
All along, Robert Kagan was frowning, fidgeting, growing visibly icy. It turned out he hadn't really left the comfort of the neoconservative collective at all and was highly displeased with Kurt Campbell's effort to be "flip and funny."
A source close to Campbell told me that despite the accuracy of the metaphor he used to describe neoconservatives, Campbell had not intended to offend Robert Kagan at all. In fact, given what many neoconservatives say about realists and liberal internationalists, this was pretty light fare.
Another source told me that Kagan decided he would not appear on the Princeton Project panel with Campbell the next day. While some would have said "great" — now we can have a reality-based discussion, the fact is that there are times when balance and ideological diversity are important, and this was one of those. Kagan jumping ship would not have been good.
So, Campbell went out to buy Bob Kagan "a tie", wrote him a note of apology, and thanked him for his service "on behalf of a grateful nation."
I hear that the teasing of Richard Holbrooke at the dinner was even more sizzling, but that will wait for a few weeks so that my sources are not inadvertently outed.
My own analogy to describe the neocons to lay audiences is the "Borg" in Star Trek. The Borg mean well, but they want to 'assimilate' dissimilar cultures and peoples and make them look just like the Borg. If they can't assimilate them, they either annihilate them or wall them off.
Maybe Kurt Campbell will find that metaphor useful the next time he hangs out with a lost and wandering neoconservative soul.
(Honestly, I hope that Bob Kagan and Kurt Campbell both enjoy this a bit. It's just too good a story not to post. If not, can someone tell me what tie shop Campbell uses?)
— Steve Clemons