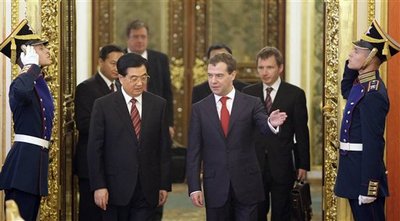 Lehigh University International Relations Department Chair Rajan Menon recently published an informative report for the Century Foundation called "The China-Russia Relationship: What It Involves, Where It Is Headed, And How It Matters For The United States."
The report provides a useful framework for conceptualizing the relationships among China, Russia, and the United States.
Menon makes a persuasive case that while the "strategic partnership" between Russia and China is based in large part on a shared aversion to unchecked American power, a full-fledged anti-American alliance is unlikely to develop.
The report refutes assertions by the British historian Niall Ferguson and others that Russia and China are engaged in a classic balance of power alliance to counter American influence.
Such an alliance is unlikely for several reasons. Neither Russia nor China believes that an alliance could effectively balance American influence given the United States' extraordinary military and economic advantages, China agrees with Joe Biden that Russia is a weak and declining power, and Russia envisions itself as part of the West and views China's rise with jealousy and suspicion. Furthermore, geographical proximity makes Russia and China natural competitors in Central Asia and the Russian Far East.
The bottom line is that both Russia and China benefit more from their relations with the West than from their relations with each other.
Menon's analyses of the United States' bilateral relationships with Russia and China are strong because he avoids a U.S.-centric perspective and explains how Beijing and Moscow perceive their interests and their relationships with Washington. His acknowledgments that the United States' unilateral decision to abandon the ABM treaty and its obsessive commitment to NATO expansion have been counter-productive are particularly welcome.
One quibble I have with Menon's argument is his statement that "While talk of a Russian-American cold war is ubiquitous in Russia and the United States, there is no parallel categorization about the Beijing-Washington relationship, either in Beijing or Washington."
While you wouldn't know it from last week's Strategic and Economic Dialogue "love fest," there is in fact a large and influential group of China hard-liners based primarily at the Pentagon and in the armed services that views China as an emerging military superpower and conceives the U.S.-China relationship in zero-sum terms. While these views have been crowded out in recent years, they most certainly exist and could resurface in the event of a crisis.
Menon correctly identifies one of the main reasons that the China hard-liners in Washington have been sidelined. The enormous trade and investment flows between the two countries ensure that there are strong domestic constituencies in both countries with a stake in the relationship. The lack of these constituencies is one of the biggest obstacles to stronger U.S.-Russian relations. Menon says
The problems…are compounded by the ease with which the relationship with Russia can be damaged because of the lack of influential constituencies within America that have a strong stake in shoring it up, let alone expanding it. The pro-China business lobby in America has no pro-Russian counterpart, and while there are university professors and op-ed writers who argue strenuously that the relationship with Russia is important and should be strengthened, who has lost money betting on their lack of influence?
One other interesting insight from the article is that while much is made of Russia's dependence on arms sales to China (which make up about 10% of Russia's export earnings), China is at least as dependent on Russia in this area. Because of Washington's ban, Russia is the only place that China can buy state of the art weaponry.
The full text of Menon's article can be found here, and is well worth a read.
— Ben Katcher