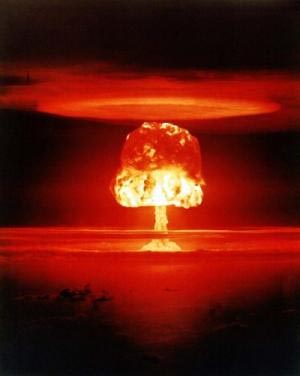 . . .or so says Air Force Secretary Michael W. Wynn.
According to a report from the New York Times' The Lede, Wynne said:
In an organization as large as the DOD, the largest and most complex in the world, there will be mistakes," he said. "But they cannot be tolerated in the arena of strategic systems, whether they are nuclear or only associated equipment.
A year ago, four electrical fuses for ICBM's were shipped in error to Taiwan, and this follows an episode in which six nuclear warheads were mistakenly move to North Dakota from a depot in Louisiana. The Taiwan mistake was just discovered and reported.
This may seem like a small deal — but it's not. As my colleague the much-followed ArmsControlWonk.com publisher Jeffrey Lewis has said, it's not enough to blame people at the bottom of the command chain. This may be an institutional "pathology" that needs immediate correction.
As Lewis says about the Department of Defense thus far on its nuclear hiccups:
These guys don't get it. This is not an isolated incident. The organization has a problem. This is dangerous.
We agree.
And this kind of management foul-up with WMD material and devices nullifies U.S. credibility when trying to counsel Russia, Pakistan, India, or any other nation on the management of its nuclear assets.
We have had two strikes now. We'll hope we don't go for a third.
— Steve Clemons