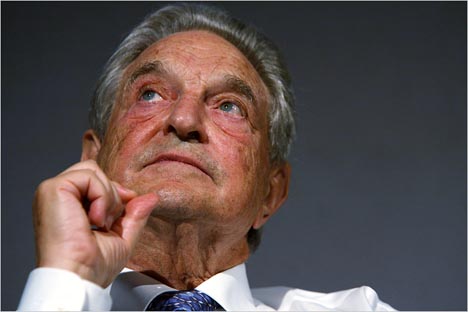 Friday morning (tomorrow) I will be hosting a media/blogger conference call with financier and philanthropist George Soros at 10 am EST.
In a new book released today, The New Paradigm for Financial Markets: The Credit Crisis of 2008 and What It Means, as well as a Financial Times oped that also appeared today, Soros shares his thinking on the current financial crisis — which he argues is "the most severe since the 1930s."
In order to speed up distribution, Soros has published the book electronically. He also presents his outlook for the global economy in 2008 (which I bet moves markets a bit).
For those who are into this — bloggers, opinion writers and/or media — the conference will begin at 10 a.m. EST. I must send the call-in information to you after you RSVP to steve@thewashingtonnote.com. We have a domestic U.S. number to call — and a number for non-US based journalists and bloggers to call.
I wish I could open this to the entire public — but we don't have enough lines. I will post the recording of the call for public airing after the meeting is completed.
Here are some lines from the book. . .

From The New Paradigm for Financial Markets: The Credit Crisis of 2008 and What it Means —
"The United States is facing both a recession and a flight from the dollar. The decline in housing prices, the weight of accumulated household debt, and the losses and uncertainties in the banking system threaten to push the economy into a self-reinforcing decline.
Measures to combat this threat increase the supply of dollars. At the same time, the flight from the dollar has set up inflationary pressures through higher energy, commodity, and food prices.
The European Central Bank, whose mission is to maintain price stability, is reluctant to lower interest rates. This has created a discord between U.S. and E.U. monetary policy and put upward pressure on the euro. The euro has appreciated more than the renminbi, creating trade tension between Europe and China.
The renminbi can be expected to catch up with the euro both to avoid prote ctionism in the United States and increasingly in Europe, and to contain imported price inflation in China. This will, in turn, increase prices at Wal-Mart and put additional pressure on the already beleaguered U.S. consumer.
Unfortunately this administration shows no understanding of the predicament in which it finds itself."
— Steve Clemons