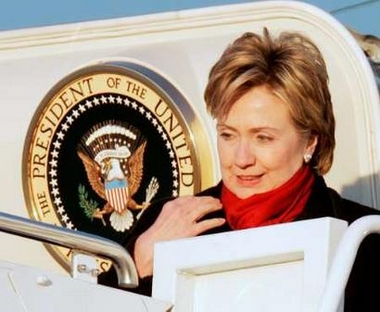 Over at Foreign Policy magazine's website, I have a quick review of Hillary Clinton's performance yesterday at her confirmation hearings before the Senate Foreign Relations Committee.
My first reaction listening to this just one-notch-short-of-a-love-fest hearing was that Norm Coleman's absence has made a huge difference. Coleman was a member of the Senate Foreign Relations Committee. He would have been the John Bolton of that hearing — the pugnacious, in her face, hard pounding harasser — particularly highlighting the gaps between presidential candidate Hillary Clinton and Secretary of State nominee Hillary Clinton.
Thankfully, Norm Coleman's Senate Office is NOW officially closed. Check out his Senate website. I think I actually beat my pal Mike Allen at Politico on that one. Al Kamen at the Washington Post too.
Until his website disappears, this is what the home page says:
OFFICE OF NORM COLEMAN CLOSED.
What I neglected to write yesterday is that another of Hillary Clinton's announced priorities was to get the Law of the Seas treaty ratified.
Finally pushing the Law of the Sea Treaty forward will resolve hypocrisy that was teasing both the Republicans and Democrats.
The Treaty is important for a number of reasons — particularly establishing international protocols on the seas that the US military has argued are badly needed. In addition, while other nations are claiming various mineral rights in the Arctic North, America has been sidelined for not being part of a Treaty that helps legally establish American rights.
George W. Bush favored the treaty and ordered his State Department to get it ratified. Vice President Cheney and his consigliere, David Addington, were not big fans. John McCain used to support it before he decided to be against it — and the pugnacious hyper-nationalist team of John Bolton and Frank Gaffney — pushed both McCain and Cheney to stop its passage in the last Congress. What ever happened to doing what the Generals and Admirals wanted?
Even though most Dems supported the Treaty. Richard Lugar supported the Treaty. The military needed the Treaty. It went nowhere.
I asked Senator Harry Reid why he didn't make it a legislative priority at the conclusion of the last Congress — and he said that while he would love nothing more than to "demonstrate what a hypocrite John McCain was on Law of the Sea", there was no legislative time given other priorities.
I think Hillary Clinton made the case yesterday that ratification was a key priority — not to embarrass anyone — but rather on the national interest merits of the Treaty.
Clinton did a good job — and hope folks enjoy the Foreign Policy essay.
I look forward to hosting Norm Coleman over at TWN or Huffington Post someday to share with us what questions he would have posed at the hearing.
— Steve Clemons