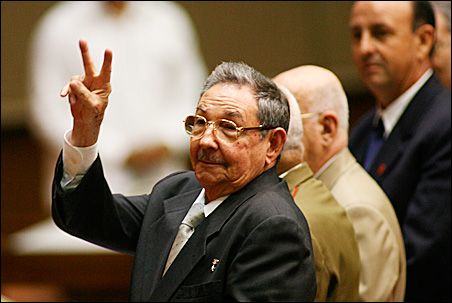 Seven U.S. Congressmen are in Havana and met with Cuban President Raul Castro among other leading Cuban politicians.
What I found most interesting in the Associated Press report on their trip was a comment made by Representative Mel Watt about something he had read of Fidel Castro's.
From the AP article:
Lawmakers in both houses of the U.S. Congress have proposed a measure that would prohibit the president from barring Americans from traveling to Cuba except in extreme cases, effectively lifting a travel ban that is a key component of the embargo.
[Barbara] Lee has said that many of the representatives, who arrived in Cuba on Friday and are scheduled to leave Tuesday, support the travel legislation.
Democratic Rep. Mel Watt of North Carolina said Monday that Fidel Castro's column made it "clear that both countries can exist without either dialogue or adversity to each other."
"But wouldn't it be so wonderful," he added, "if we struck a dialogue and found the things that were mutually advantageous and mutually of interest to our two countries and stopped the historical divisions that have separated us (though we are) so close geographically?"
This reminds me of General Brent Scowcroft's comment to me some time ago in a short interview he gave me at the time I was helping to organize a book on US foreign policy by Scowcroft, Zbigniew Brzezinski, and Washington Post national security columnist David Ignatius.
Scowcroft said:
My answer on Cuba is Cuba is not a foreign policy question.
Cuba is a domestic issue.
In foreign policy, the embargo makes no sense.
It doesn't do anything.
It's quite clear we can not starve Cuba to death.
We learned that when the Soviet stopped subsidizing Cuba and they didn't collapse.
It's a domestic issue.
I think it's time to realize that we need to move Cuba out of the domestic political box back into the geostrategic context where it belongs.
— Steve Clemons