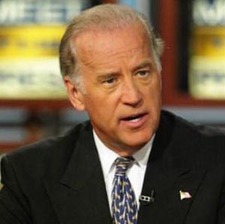 And you thought he was just good at foreign policy. . .
Working Mother Magazine — the journal of record for what Obama senior policy adviser Karen Kornbluh called "the juggler family" and a place to learn about "the mommy tax" — has honored Joe Biden with its "Best of Congress Award."
From the magazine:
Senator Joseph R. Biden, Jr., D-Delaware
Staffers 76
Working-mom staffers 16
What we love A U.S. senator for nearly 36 years, he puts kids' health, safety and education at the top of his priorities list.
A-Plus Education Advocate Sen. Biden worked with Sen. Patty Murray (D-WA) on the Facilitating Outstanding Classrooms Using Size Reduction (FOCUS) Act, which would provide $2 billion in funding to hire 100,000 new teachers so that class size would be reduced to an average of 18 students, especially in the early grades. This legislation would ensure that reducing class size wouldn't mean having to compete for funding with teacher and administrator professional development and training.
Women's Health Support Along with his wife, Jill, Biden has been a longtime leader in the fight against breast cancer.
They helped establish the Biden Breast Health Initiative in 1993 to educate young women across Delaware on the importance of proper breast health and the importance of early detection. The program has educated more than 6,000 Delaware high schoolers since it was started.
I've been punching myself to think through whether there is a VP sleeper nominee out there I haven't figured out or seen. The only one I don't have a fix on is Virginia Governor Tim Kaine — but logic leads me to think that while Obama likes him and considers him "close," Obama will not choose him in part for those reasons.
My gut — which is usually right — is telling me Biden will be Obama's vice presidential running mate.
— Steve Clemons