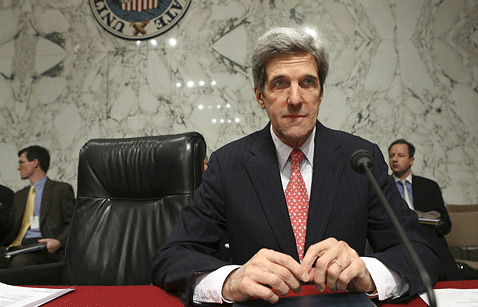 I occasionally write for the CNN.com website and just noticed that Senate Foreign Relations Committee Chairman John Kerry is now doing so too.
In a great piece applauding President Obama's early executive orders to move forward vigorously the closing of Guantanamo, Kerry outlines what the failure to respect human rights means for national security.
In his article, John Kerry writes:
Torture plays directly into a central tenet of al Qaeda's recruiting pitch: that everyday Muslims across the world have something to fear from the United States of America.
From Morocco to Malaysia, people regularly hear stories of torture and suicide at Abu Ghraib, Guantanamo, and other overseas prisons. The result has been a major blow to our credibility worldwide, particularly where we need it most: in the Muslim world.
Once permitted, torture and lawlessness are not easily contained. Coercive interrogation techniques found their way from high-level terrorists at Guantanamo to low-level detainees at Abu Ghraib.
Years later, images of abuse there remain fixtures across the Arab and Muslim world. And as John McCain has argued, the use of techniques like waterboarding leaves its scars on a democratic society as well.
Torture elicits lies — not just from those experiencing it, but from those who seek to conceal it. After years of Orwellian denials and legalistic parsing, what a relief it was to hear our new attorney general-designee finally acknowledge what we know to be true: that yes, "waterboarding is torture."
As we move forward, President Obama is wise to "reject as false the choice between our safety and our ideals" — but the American people should know that closing a prison conceived outside the rule of law will not be easy.
Reclaiming Guantanamo and its inhabitants into our legal system from what former Vice President Dick Cheney called "the dark side" will be an enormous challenge and a thicket of thorny legal and policy issues.
However, we are already seeing the international system reorganize itself around an America that is willing to be a moral leader.
No matter when Guantanamo finally closes, there is progress in the right direction with an end to secret prisons and extraordinary rendition as well as a comment to prohibit torture techniques.
But it will take a very long time for those aggrieved — and who had hope in the moral enlightenment of the United States — to fully trust that this black period is over.
In fact, I don't fully trust the US government on this front either. We need to see practices and habits of action and performance fill in the foundation of rhetoric.
— Steve Clemons