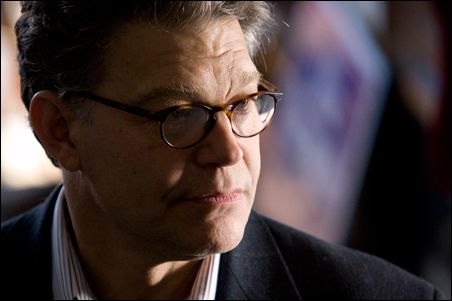 Norm Coleman will no doubt soon be joining a lobbying firm, or a conservative think tank like the American Enterprise Institute or Heritage Foundation. Coleman described himself as John Bolton's best friend in the US Senate during the failed bid(s) to secure Senate affirmation of Bolton as US Ambassador to the United Nations. In the end, Bolton secured the job temporarily in an unconfirmed recess appointment.
Coleman is 225 votes short of victory after a massive recount of Minnesota ballots. Reports are leaking out that the State Canvassing Board will declare challenger Al Franken the victor on Monday.
Wow. The Democratic Caucus will now control 59 US Senate seats. I am really going to miss Senator Chuck Hagel (R-NE) in the mix as a key balancer pushing sensible, realist approaches to foreign policy. Hagel tried in the last Congress, but his Democratic partners were too weak.
Hagel, for the time being, is keeping his powder dry as to his next steps, but there is word that he is going to be doing some work with international financier James Wolfensohn.
Congratulations Al Franken and to all those who have been coaching Franken on national security and foreign policy issues.
I plan to send Al the Brzezinski-Scowcroft-Ignatius book as a good supplemental primer.
I'm off to Geneva.
— Steve Clemons
Continue reading:

The Leon E. Panetta Central Intelligence Agency. . .?
TWN on the Road