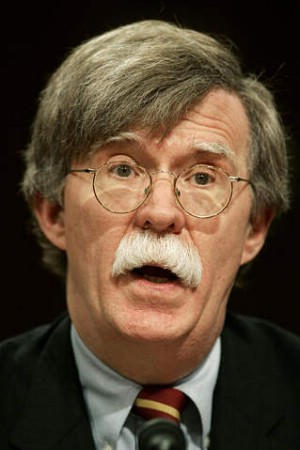 When I was thinking about launching a civil society battle over John Bolton's nomination to serve as US Ambassador to the United Nations and planned to do what I could to block his Senate confirmation, I talked to a few Senators about it — on both sides of the aisle. One prominent Senator told me:
Steve, I don't like John Bolton any more than you do, but he's an obscure bureaucrat going for a job nobody cares about.
Unless someone creates the political space and turns him into a household name, there's nothing we can do to stop this.
Well, we created the political space, turned John Bolton into a household name, and stopped his Senate confirmation.
But he's doing just fine in book sales, keynote conference roles, and speech fees. He may not want to admit it, but TWN played a role in helping him get known. . .a small price to pay we think for moving him out of the United Nations.
As the Washington Post writes:
Those who can get Senate confirmation, do; those who can't . . . keynote? John R. Bolton, who never got the chamber's approval to become ambassador to the United Nations, will deliver the spotlight speech at today's launch of Global Governance Watch, a joint project of the American Enterprise Institute and the Federalist Society.
More later.
— Steve Clemons