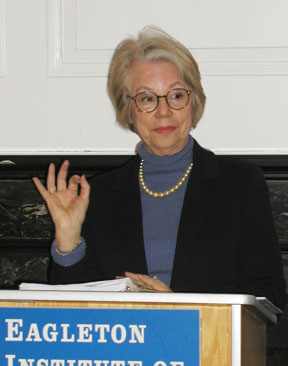 Ann Lewis, who has been one of the nation's leading activists for women's rights, and a long time adviser to and confidante of Hillary Clinton has just initiated a new non-profit organization called "No Limits."
The group was inspired by comments that Hillary Clinton made at the 2008 Denver Democratic Convention and may do much to keep a solid infrastructure in place of many of those who led 18 million people to vote for Hillary in that primary.
From the organization website:
Inspired by Hillary's speech in Denver, when she said "With our ingenuity, innovative spirit and creativity, there are no limits to what is possible in America," we formed No Limits so that we can continue working together on the issues that are important to us.
No Limits is a new community dedicated to speaking up, sharing ideas and solving problems in our communities, our cities, our states, and our world. It is about empowering one another through our common experiences to address the challenges before us.
I think that capacity building, community infrastructure building across the country are vital activities given the economic crisis that is hitting the country. Lots of folks are going to need support.
So, I support this and other such causes and think Ann Lewis will do well giving Hillary's national base and those who believe in her some new and important tasks.
— Steve Clemons