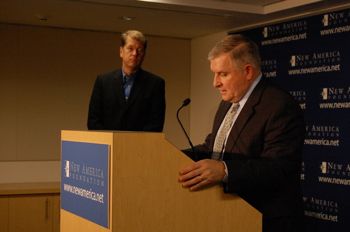 David Shorr is a program officer at the Stanley Foundation and co-editor of Powers and Principles: International Leadership In A Shrinking World.
In his recent presentation at New America Foundation, retired General Tony Zinni made a number of consciously radical proposals to enhance America's smart power and boost our government's effectiveness in achieving the country's objectives around the world.
General Zinni's comments compelled the State Department to officially respond on this blog.
Mainly Gen. Zinni's radical ideas called for putting foreign policy responsibilities into military hands to an even greater extent than they already are. I don't think this is really the way to go, but it's a tempting approach because it exploits — albeit for convenience sake and choosing the path of least resistance, rather than difficult change — undeniable strengths and advantages of the military.
So before I raise some questions and difficulties, let me start by stipulating some premises that I actually share. As an organization, the US military is impressively systematic in assessing, planning, mobilizing, and executing — giving it the kind of deep capacities for shaping and improving world conditions that our entire foreign policy indeed needs. It's operational assets are formidable, and its flexibility is enviable. Time and time again, the military runs into the same question: where are our civilian counterparts to help with the political / social / economic pieces of this mission? One more point to stipulate, General Zinni has given a great deal of attention and thought to these issues in recent years.
Now moving onto the problems I see in Tony Zinni's ideas:
1. Is taking charge the only way the military can help? Zinni makes a good point when he says that his new command structure for the military's civil affairs units will help "convince others of the resource needs." Indeed, one of the structural problems is that budgetary resources tend to flow like water for the military and are parceled out stingily and skeptically for the 150 account. Late last year, a proposal from the Stanley Foundation and Center for a New American Security tried to take advantage of DoD influence through a new budgeting process at the highest levels. Zinni proposes to demonstrate the resource needs by continuing to let the military do the job; how will that ultimately help strengthen the civilian agencies?
2. What about the whole civilian-control-of-the-military thing? As my stipulations basically concede, Gen. Zinni may have understandable reasons — impatience, urgency of the stakes, grounds for pessimism — for not waiting for a beefed up State Department and USAID, but can we really give up on this one? Don't we have to accomplish a meaningful rebalancing of the military and civilian agencies as a matter of principle? Where would his proposal leave us on that front?
3. Resources versus reform and restructuring. General Zinni offers his own conclusion that strengthening DoS and USAID is not merely a matter of boosting their budgets and personnel, but rather "major restructuring and cultural change." Other experts like Matt Armstrong can give a better picture of the weaknesses and dysfunctions of these agencies. Undoubtedly major reforms are needed, but let me hone in on this idea that resources without reform are not a solution. I think this is a more damning claim than people realize. From my view, these agencies are manifestly short-staffed. Whatever the shortcomings in keeping up with the times, they have also been starved of resources. (This excellent Stimson Center – American Academy of Diplomacy report gives a detailed plan for rebuilding.) The no-resources-without-restructuring argument denies the past decades of lack of budgetary support. But it's even more drastic than that. To deny the importance of budget and personnel increases is to call DoS and USAID utterly incapable of putting resources to good use, and we just shouldn't go there.
4. The need for a strategy. Switching back to some common ground, I completely agree with Tony Zinni that an overarching national security and foreign policy strategy is essential to help steer the authors and implements of US policy, which is why I'm glad Secretary Clinton has launched a new Quadrennial Diplomacy and Development Review. I do want to ask General Zinni, though, whether he really thinks political, social, and economic efforts and contingencies can be planned to the same degree as kinetic military operations? Also, I think it's worth preserving some of the legacies of former Secretary Condoleezza Rice's efforts on transformational diplomacy. From what I remember, the report on The State Department of 2025 was pretty good, and I liked this formulation of the DoS strategic objective:
A more democratic, secure, and prosperous world composed of well-governed states that respond to the needs of their people, reduce widespread poverty, and act responsibly within the international system.
5. Post-conflict, pre-conflict, reconstruction, stabilization, etc. I'm in partial agreement regarding the nature and scope of the smart power problem. On the one hand, General Zinni is right to focus on the intensive on-the-ground challenges of post-conflict stabilization, and even more on-target for highlighting pre-conflict needs for stability, governance, and basic living standards. Indeed, this idea of fragile states as a first-order cause of critical problems is a major focus for the Stanley Foundation, as articulated here by my colleague Mike Kraig. I'm not in a position to adjudicate between Gen. Zinni and Jeffrey Stacey's response on this blog regarding the development of S/CRS, except to note once again that the very nature of the civilian reserve corps is temporary rather than permanent capacity. But I also want to point out that these stability efforts hardly constitute the entirety of the strategic challenges to US foreign policy and the civilian agencies, though I've written on my own blog, Democracy Arsenal, about a related conceptual problem.
Okay, that's probably (more than) enough response. Now discuss.
— David Shorr