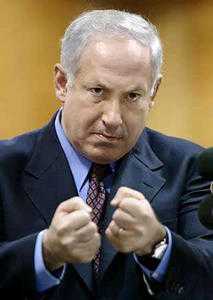 Peter Berkowitz's essay in the latest issue of the Weekly Standard provides good insight into what I think is the strategic irresponsibility of those in Israel's leadership who think that they can hold steady on a course that justifies failure on an a Palestine-Israel deal using Hamas and Iran as excuses.
As things look today, the Likud Party and its chief, Benjamin Netanyahu, look like they are about to be given a stronger hand in the coming elections. And Netanyahu is pro-settlement, and in my view the continued expansion of settlements is the most toxic activity that is undermining the negotiations process and actually, in the long term, will assure a deterioration in America's support for Israel.
Berkowitz points out:
The major difference between the candidates went unaddressed at Herzliya. It concerns the future of Israeli settlements, the towns and cities built and populated by Israel in the territories it gained control over in 1967 in the Six Day War. While he almost certainly would not build new settlements, Netanyahu remains unlikely, without pressure from the United States, to freeze the natural growth of existing settlements. In contrast, both Livni and Barak would probably impose a freeze on all new building beyond the Green Line. Livni and Barak recognize, however, along with Netanyahu, that the settlements are far from the fundamental obstacle to peace with the Palestinians.
Indeed, the journalists, political analysts, and current and former national security officials to whom I spoke were in striking agreement that Livni and Barak as well as Netanyahu all see that the fundamental obstacle to progress in resolving the conflict with the Palestinians is Iran. Indeed, the case for Iran's centrality is convincing.
I respect Peter Berkowitz but disagree with his take on things — and find the perspective of many he is interacting with strikingly narrow when it comes to a serious strategy that will secure Israeli democracy and security in the coming years.
I share Zbigniew Brzezinski's view that both sides of the Israel-Palestine divide have proven themselves completely unable to solve an arrangement on their own. A Palestinian state is still possible — and Israel democracy without apartheid within its borders is also still possible.
However, it is time to move negotiations out of the weeds and re-engage various stakeholders on all sides of the equation – including the U.S., Europe, Russia, Saudi Arabia, Jordan, Egypt, Iran, Syria, and the United Nations.
Israel's bravado over Gaza and the massively disproportionate deployment of force in which so many innocents were killed or injured — and lives seriously disrupted on so many levels — is the type of potentially transformative act that can either radicalize a great many more Arabs against the current equations of power in the region or more optimistically, could transform the perspective of the White House to finally realize that Israel's zero-sum game approach in the region is something that needs to be curtailed and changed.
Folks in the U.S. are hoping for centrists, reasonable, rational negotiators to emerge. Some on Obama's National Security Council team think that if they only can now. . .finally. . .make Abbas and Fatah the winners in the eyes of Palestinians by showering on them goodies to deliver to their constituents, all will be well. This is well meaning "earnestness." But it is flawed sentimentalism. Taking this approach with Abbas is "too much, too late." I think that despite recent drama, Tzipi Livni falls into this "earnestness" hope — though she has a class of detractors larger than Maureen Dowd has.
But "earnestness" in trying to move the Rubik's Cube of the region into alignment is flawed. Israel and Palestine together don't work. They can't come to a responsible deal on their own.
It doesn't matter if Livni is Prime Minister, or Ehud Barak — who I think is the most monstrous of recent Israeli political players for his role in tightening the noose around Palestinian mobility and movement after the Annapolis process started. And yes, I said monstrous – to borrow a term from Samantha Power. And it doesn't matter if Netanyahu is PM.
Likewise, Mahmoud Abbas is essentially irrelevant at this point — and all leaders in Palestine are with the exception of those who might be able to think strategically in a Gandhi-esque way and match the flamboyant absolutism and inhumanity of Israel's occuptation behaviors with non-violent civil disobedience on a communications scale that Gandhi achieved. Mustafa Barghouti comes to mind. . .possibly.
In fact, the more irresponsible both sides are about their situation, the more achievable a "new equilibrium arrangement" may be — because the US and other regional stakeholders simply can't afford for the recklessness, immaturity, and sheer stupidity of leadership on all sides of the conflict to continue.
Given that. Give us Netanyahu. Please.
His re-ascension will help Americans realize that the false choice approach the Bush administration has been taking in Israel-Palestine affairs was flawed — and that Obama's team must change the game or face a serious rebuke from Middle East watchers in the US and around the world.
— Steve Clemons
Continue reading:

Appraising "The Surge"
Kindle & The Washington Note