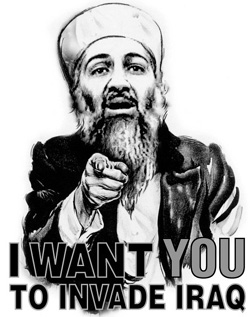 Daily Show host Jon Stewart and Comedy Central Senior Military Analyst Rob Riggle had a mention-worthy chat last night about an important new Government Accountability Office (GAO) report on the badly named 'war on terror.'
The GAO report is titled "Combating Terrorism: The United States lacks Comprehensive Plan to Destroy the Terrorist Threat and Close the Safe Haven in Pakistan's Federal Administered Tribal Areas". (pdf here)
The Daily Show clip is here:

But here's the cool part. . .
Rob Riggle: "In 2001, there was a memo — Bin Laden determined to attack United States from a safe haven in Afghanistan. . .
Now 7 years and $700 billion later, we get a new memo saying Bin Landen determined to attack United States from a safe haven somewhere around Afghanistan. . .
We are right back where we started. We could have gotten here by doing nothing."
I am acquainted with GAO staff member Edward George who had a major hand in writing this report, which is provocative, candid, and substantially dismissive of the Bush administration's anti-terror efforts in Pakistan and Afghanistan.
— Steve Clemons