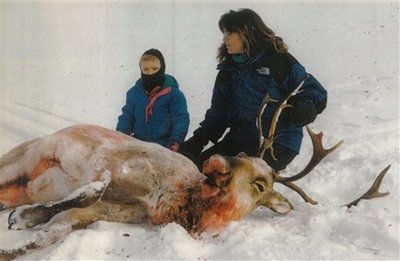 (link to AP photo)
At the Democratic National Convention, I was on the floor at the Pepsi Center when Massachusetts Senator John Kerry was giving his speech.
Senator Kerry had spoken for me for a New America Foundation event earlier in the day, and I wanted to return the favor by being there in the crowd with thousands of others. Many folks were listening — and many folks were just mixing, milling, talking, not aware that their former Democratic presidential candidate was up making the case for Barack Obama at the podium.
And then the crowd's collective ears perked because the Brahminesque Kerry hit an amazing home run juxtaposing the gap between "candidate McCain" and "Senator McCain":

But this morning the Anchorage Daily News has raised the same kind of issue of candidate vs. the actual Sarah Palin that deserves attention. The paper's editors write:
Gov. Sarah Palin is taking the wrong approach to Troopergate. She should be practicing the open and transparent, ethical and accountable government she promised when running for governor and boasts about now that she's on the national stage.
Instead, Gov. Palin has begun stonewalling the Legislature's attempt to get the bottom of allegations that she, her family or staff violated ethical or state personnel rules.
As a result, the Troopergate allegations hang over Palin's future and cloud her candidacy for vice president.
The allegations are that she, her family or administration improperly pressured then-Public Safety Commissioner Walt Monegan to fire Gov. Palin's ex-brother-in-law, state trooper Mike Wooten, who had been in the middle of a custody dispute with Palin's sister.
Here is a reminder of the course the McCain/Palin team professes it wants to go from Senator McCain's Republican National Convention speech last night:
Instead of rejecting good ideas because we didn't think of them first, let's use the best ideas from both sides. Instead of fighting over who gets the credit, let's try sharing it. This amazing country can do anything we put our minds to. I will ask Democrats and Independents to serve with me. And my administration will set a new standard for transparency and accountability.
It is time that Sarah Palin put Troopergate behind her by laying it all out there. If she doesn't, well. . .remember Ken Starr?
— Steve Clemons
Editor's Note: Hat tip to BW from Alaska for the Anchorage Daily News piece.
Continue reading:

THE MAVRICK
Keeping Ameirca Strong