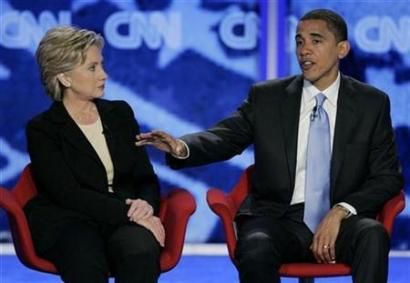 Both Hillary Clinton and Barack Obama are escalating an immature tit-for-tat exchange on who their blocks of supporters would go to if not to each of them respectively.
Obama has said "I have no doubt … that I can get her votes; the question is, can she get mine?"
Most don't doubt Obama's high-flying vision. Those who doubt him question his political maturity and federal level experience. Some used to doubt his ability to organize a large scale election machine — but on that front, he's definitively proved himself. Nonetheless, Obama's glib dismissal of Clinton is pretty much hard core "hubris".
Clinton has been doing much of the same.
Here are the numbers MSNBC flashed about who voters would go to second if not for their first choice:
43% of Clinton supporters won't vote for Obama if he's the nominee.
29% of Obama supporters won't vote for Clinton if she's the nominee.
Frankly, Democratic voters if they care about the future of this country will change their minds at the polls and not vote for McCain as their alternative. But this trend runs along the same lines of how many in the non-voting international world think. When I polled folks in Israel, those who wanted Hillary Clinton wanted McCain as the alternative. Those who preferred Obama wanted McCain as second choice as well.
If Obama had really beaten Hillary Clinton by this point and had offered the Clinton clan an olive branch, this fight between Obama and Clinton fanatics would not be raging.
But Obama has failed to beat Clinton — and she has not beaten him either. The politically mature and, in my view, the shrewd thing to do is to begin negotiating a joint ticket, or the Dems will tear themselves apart.
I'm missing Chuck Hagel in this presidential race more and more each day.
— Steve Clemons
Ed. Note: For more on this line of thinking, see Shaun Halper's piece on an Obama-Clinton ticket.
Continue reading:

Delegate Counting Chart
Coal Here vs. Coal Over There