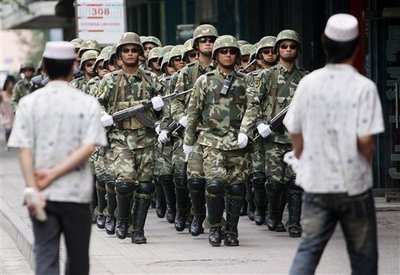 Christina Larson, a new fellow at the New America Foundation, has written two great pieces this week (here and here) on the bloody clash between the Chinese government and the Uighur population in Xinjiang province.
In The New Republic, Larson, who has traveled extensively in China – specifically among the Muslim villages of Xinjiang, offers an acute observation of the underlying problem between China and its Muslim minority. "Fundamentally, the Chinese Communist Party, which was founded on materialist principles and encourages atheism among its members, doesn't understand religion. Its leaders see every non-state-supervised religious gathering, or attempt to impart values to children, as a potential threat to their political authority."
This immense lack of understanding has led the Chinese government to create a threat where one previously did not exist and an enemy out of a traditionally peaceful people. Larson's article in Foreign Policy points out that the "global war on terror" allowed the Chinese government to step up oppressive surveillance and restrictions for the Uighurs with little to no objection from the United States and allies.
Although Islam is not officially outlawed, Uighurs are subject to a litany of intrusions on daily religious life, which leads them to see the government as an antagonistic force. As one man in Kashgar told me, "Because I am born a Uighur, I am a terrorist — that is what the government thinks?"
The authorities' overreach is also clear in the way security policies target children. During certain religious holidays, anyone under 18 is barred from entering a mosque. In Kashgar, communal meals are imposed at school during the fast period of Ramadan, and attendance is required at special assemblies timed to coincide with Friday prayers. There's no reason to treat every Uighur child like an aspiring terrorist or separatist, unless the aim is truly to stamp out religion from next generation. But this tactic would seem a high-stakes gamble for the CCP.
Larson also points out that last week's crackdown represented one of the Chinese government's weak spots in domestic policy, "Ultimately, China is more adept at creating fearsome impressions in the moment — grand like the Olympic Opening Ceremony, or cruel like the crackdown on protestors — than at maintenance. When you look close, it's apparent how much muddle there is beneath the surface, especially when authorities attempt to formulate policy around something they don't truly understand."
I recommend the full articles to anyone interested in great commentary, not only on the recent clashes in Xinjiang, but on China's greater domestic policy issues.
— Faith Smith