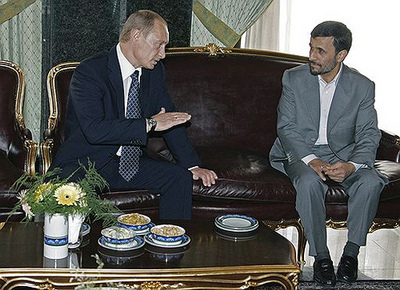 Finally, Turkey, Bulgaria, Romania, Austria and Hungary have agreed to begin building the Nabucco project, a 2,050 mile natural gas pipeline that aims to diversify Europe's gas supplies away from Russia. The project, first proposed in 2002, gained momentum when Russia cut off gas supplies to Ukraine in January, raising concerns about Russia's reliability as a supplier.
Now that the initial agreement has been made, the next question is, Who will supply the gas to fill the pipeline?
The surest bet right now is Turkmenistan – which has ample supplies and has expressed its willingness to pump them through Nabucco. Azerbaijan is also considered a major potential supplier, but its close relationship with Moscow makes its participation uncertain. The same goes for Kazakhstan.
Iraq is also in the mix, but years of underdevelopment and enduring political instability make its participation questionable as well. Syria and Egypt have offered to participate, but their supplies are limited.
The potential shortfall makes Russia and Iran the two elephants in the room. Both countries possess natural gas supplies, but whether they will be permitted to participate remains unclear. Given that lessening Europe's dependence on Russian gas is a primary motivation for developing the pipeline, using Russian gas to fill the pipeline seems to defeat that purpose.
Meanwhile, Iran's participation is questionable because of its ongoing conflict with Washington. United States Special Envoy Richard Morningstar said yesterday that
I don't think there would be an agreement at this point among the Nabucco consortium for Iranian participation at this time…Our European allies, I think, are in sync with this position…This would be the absolute worst time to encourage Iran to participate in a project in Nabucco when we've received absolutely nothing in return.
Meanwhile, Nabucco Managing Director Reinhard Mitschek appears to be leaving the door open to Iran's participation. Here's what he said earlier this week
Nabucco has never, ever excluded any source. Nabucco is not excluding any source. Bottom line, we have to buy the gas. The national gas companies will evaluate the political aspect, the commercial aspect, the technical aspect and then they will decide to buy gas from Azerbaijan, Turkmenistan, Iraq, Iran and Russia. For all these sources, we are open to transport the gas.
It will probably be years before we know whether Nabucco will buy Russian or Iranian gas – but all of this highlights the long-term energy competition looming between Russia and Iran and its implications for America's effort to secure Russian cooperation on the Iranian nuclear issue.
As Marcin Kaczmarski explains, Russia perceives Iran as both a tactical ally against the United States and as a strategic competitor as an energy supplier to Europe. Russia fears that a rapprochement between the United States and Iran would open Iran's energy markets and threaten Russia's dominant position as Europe's primary natural gas supplier.
A likely unintended consequence of Nabucco will be to heighten those fears in Moscow and make U.S-Russian cooperation on Iran's nuclear issue more difficult.
— Ben Katcher