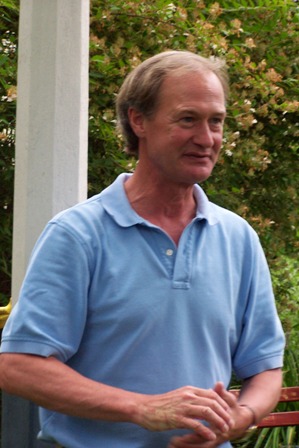 Lincoln Chafee was one of my favorite moderates in the U.S. Senate. His common sense progressive realism in foreign affairs was essential during the battle over John Bolton's confirmation. Unlike a number of others who sought higher national office, Chafee voted against the Iraq War Resolution.
I think that now that he has become a political Independent and quit the Republican Party (he told me that he has always voted Republican in every race until 2008 though he said that he wrote in George H.W. Bush in the 2004 presidential race), Chafee is well-positioned to serve in an Obama cabinet or to run as an Independent for the governorship of Rhode Island. I would support him on both fronts.
However, Chafee added a bit of color to his profile yesterday and in a very lucid, lay it all out there talk at the New America Foundation about how he was let down substantively and politically by Bush/Cheney, he expressed some strong views about Sarah Palin.
On the front page of Roll Call's "Heard on the Hill" column, Emily Heil and Elizabeth Brotherton write:
He Said What? Former Rhode Island Sen. Lincoln Chafee is know for being a friendly, mild-mannered guy. But the Republican-turned-Independent's good nature isn't because he lacks the tough-talk ammo, as he proved Tuesday while promoting his latest book, "Against the Tide: How a Compliant Congress Empowered a Reckless President," at the New America Foundation.
Chafee (a supporter of Democratic presidential nominee Sen. Barack Obama) was discussing how GOP vice presidential nominee Sarah Palin's speech at the recent Republican National Convention energized the party's base. While he said it was impressive, Chafee thinks the Alaska governor also energized the left, as Democrats were outraged "to see this cocky whacko up there."
Chafee's comment drew gasps from the audience, who apparently were not expecting to hear such relatively feisty language from the normally genteel former Senator. It even shocked event moderator Steve Clemons, who responded, "Did you just say 'cocky whacko'?"
Chafee just smiled.
Chafee's comments on Palin appear at about 53:00 in this video clip. I also do a shorter clip of six minutes here in which Chafee says of Palin, "she is dangerous for the future of the country" — and explains why.
— Steve Clemons