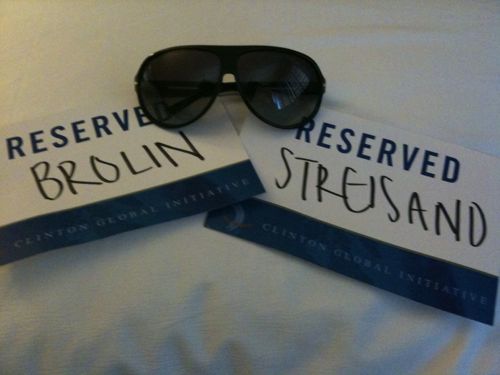 I very much hope that the Clinton Global Initiative posts a video link to the outstanding gala dinner celebrating its Global Citizen Awards.
It was a stunning event and made even a cynical realist like me feel good about the value of high octane humanitarian gestures made by others.
Listening to Bill Clinton confess his shame about his own cynicism and occasional self pity while recounting how Rwanda President Paul Kagame was able to take his people out of their hell and into a place of real hope and a vision of the future is a pretty overpowering experience. I was there. Bill Clinton was predictably amazing.
The 2009 CGI Global Citizen Award recipients include Asha Hagi Elmi Amin, Chairperson, Save Somali Women and Children; Ruchira Gupta, President, Apne Aap Women Worldwide; Peter Bakker, Chief Executive Officer, TNT; Quincy Jones, Founder, Quincy Jones Foundation; His Excellency Paul Kagame; President of the Republic of Rwanda; and Dr. Rola Dashti, Parliament Member, State of Kuwait.
And there was an amazing and diverse audience. Those I saw included Barbra Streisand & James Brolin, Ambassador Elizabeth Bagley & Smith Bagley, Hani Masri, Ben Stiller, Juanes & Alicia Keys (both of whom gave incredible performances), former Saudi Ambassador to the US HRH Prince Turki al-Faisal, Huda Farouki, General Wesley Clark, former US Ambassador to the United Nations Zalmay Khalilzad, environmental wiz kid PJ Simmons, Quincy Jones, John Bryant, Sidney & Jackie Blumenthal, former Senator and UN Foundation President Timothy Wirth, former USIA chief Joe Duffey, John Podesta, Bracken Hendricks, Inter American Development Bank Luis Alberto Moreno, and a thousand others.
But this brings me — oddly — to the photo above. Barbra Streisand and James Brolin were seated with the Bagleys and some other folks I don't know at the table next to mine.
I "think" that she left her sunglasses at the dinner. Otherwise they are the lady's that sat just next to her.
I tried to give them to some Clinton Global Initiative staff members to get up to her at a private, more exclusive event with President Clinton upstairs in the Sheraton. But I could tell that the staffers were confused and didn't feel comfortable taking them. I thought of giving them to the hotel staff, but the concierge/guest services folks at the Sheraton had been under siege for days from all the traffic at the conference and were pretty rude and abrupt when I tried to leave the glasses with them.
I mean these are/might be Barbra Streisand's sunglasses!
So, I am going to post this in the hope that her crowd, or someone higher up the command chain of the Clinton Global Initiative can reach me if she really wants these back. I have them.
And I am going to confess that I am a fan of Barbra — and I am part of the "Barbra Streisand Community email list." Feel free to sign up as well at her official site.
If these glasses belong to the lady who sat next to Ms. Streisand — zap me an email as well.
— Steve Clemons
Continue reading:

Today is the Day: Battle for the Bundestag
Martin O'Malley's Choice?