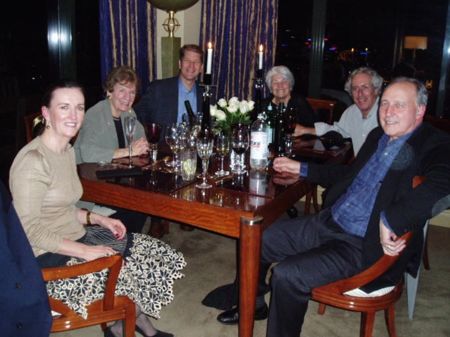 (post-2007 Australian American Leadership Dialogue Dinner: Anne Keating, Anne Wexler, Steve Clemons, Lesley Russell, Bruce Wolpe, Former Prime Minister Paul Keating; photo credit: Ambassador Joseph Duffey)
One of the people who opened many otherwise closed doors for me in Washington, DC is Anne Wexler — an amazing politico in Washington married to the equally peripatetic former USIA Director Joseph Duffey.
Anne passed away this morning after a long and valiant fight with cancer. I'm off on Tuesday next week to Melbourne and Sydney to participate in the Australian American Leadership Dialogue which Anne Wexler helped to found and would not have been brought into this interesting group without her strong support.
There were many of the great and the good who have been stopping in to see Anne these last few weeks. I know that Bill Clinton and Hillary Clinton both spent time with Anne as well — and she left feeling quite whole and good about her amazing life.
I will very much miss Anne who was a great friend and really special to me.
She was an enormous supporter of my work and this blog.
— Steve Clemons
From her bio:
Anne Wexler is widely recognized as one of the top lobbyists in Washington. As recently as April 2008, she was named as one of the "Best in the Business: Hired Guns" by The Hill newspaper. In October, 2007, she was recognized as one of Washington's Top"Power 150″ by Washingtonian magazine. The Washingtonian identified Ms. Wexler as one of only 13 lobbyists on the list of Washingtonians who "make things happen." Washingtonian has also named Ms. Wexler as one of Washington's 10 most powerful lobbyists.
Ms. Wexler served as an Assistant to President Carter for Public Liaison from 1978-1981. As his chief deputy charged with building support for White House programs and policies, Ms. Wexler is credited with ushering in a new form of public advocacy by engaging the strategic use of outside coalitions and grassroots networks.
Previously, Ms. Wexler served as Deputy Under Secretary of Commerce, coordinating the department's programs and field operations and directing the department's Office of State and Local Governments. During her tenure at Commerce, Ms. Wexler also served as Chair of the President's Task Force on Women Business Owners.
Ms. Wexler currently serves as a Director of the Dreyfus Family of Funds. She is a member of the Council on Foreign Relations and serves on the Boards of the Washington Economic Club, The Community Foundation, the National Parks and Conservation Association and WETA, Washington's Public Broadcasting Station.
In 1989, Ms. Wexler received the Bryce Harlow Award, presented annually to the government relations professional representing the highest standards of integrity and excellence. In 2002, Wexler received the Order of Australia in recognition of her distinguished service in the pursuit of American-Australian relations, an honor seldom conferred on non-Australians.
Ms. Wexler received her Bachelor of Arts degree from Skidmore College. Skidmore also awarded her the Outstanding Alumni Award in 1972 and the Most Distinguished Alumni Award in 1984. She holds an Honorary Doctor of Laws from Skidmore College and an Honorary Doctor of Science in Business Administration from Bryant College. She is married to Dr. Joseph Duffey, Senior Vice President of Laureate Education, Inc.