[I will be live blogging at this link and at Huffington Post all day today.]
BECAUSE I AM MOVING TO PARTY MODE AND HAVE TO LEAVE MY COMPUTER, I WILL BE POSTING ONGOING UPDATES AND REACTIONS ON A LIVE BLOG PORTAL BELOW. JUST CLICK — AND YOU'LL FIND ALL THAT I HAVE POSTED BEFORE AND THE STUFF I'LL HAVE UP THE REST OF THE NIGHT. . .I HOPE

6:30 pm
Some Senate Exits
— New Hampshire: Sen. John Sununu down 18 points to Democrat Jeanne Shaheen
— Minnesota: Sen. Norm Coleman down 12 to Democrat Al Franken
— Kentucky: Senate Minority Leader Mitch McConnell is up two over Democratic challenger Bruce Lunsford
— Georgia: Senator Saxby Chambliss up three over Democrat Jim Martin
— New Mexico: Rep. Mark Udall is up 51 percent to 44 percent over Republican Bob Schaffer
— North Carolina: Democrat Kay Hagen is up 52 percent to 43 percent over Republican Sen. Elizabeth Dole
— Louisiana: Sen. Mary Landrieu (D) is "winning" her race against Republican challenger John Kennedy
5:44 pm
Chris Nelson of the Nelson Report Weighs In on What to Look For Tonight
The Nelson Report — Nov. 4, 2008
WHAT TO WATCH FOR RIGHT AWAY…
SUMMARY: no analysis for now…let's wait until tomorrow. Here's what to look for, starting in about one hour from now (at 6pm Eastern) when polls start to close.
PRESIDENTIAL "BATTLEGROUND" INDICATORS
The following goes by closing time:
6 PM:
If McCain is really in trouble, as nearly ALL the polls and experts feel, this will be clear right away in Indiana. If Indiana isn't called early FOR McCain then you can say, flat out, "Obama wins"….Bush won in '04 by 21%
Almost a ditto for Kentucky, in that if McCain does NOT win Kentucky by DOUBLE digits, he's in for a long night.
7 PM:
Florida, THE "battleground" up front, it's a "must win" for McCain, but lately has been "leaning Obama". So if Obama wins here…it's over. Being as it's Florida, of course, expect screw-ups.
Georgia has been leaning McCain, so if its even a little bit close, that means it's a blow-out nationally for Obama. Republicans start drinking heavily.
Virginia, has been leaning Obama, and is the best early state to watch. If Obama wins Virginia, he doesn't have to win Florida. It's over for McCain. (Former Gov. Mark Warner is very popular Dem, will be elected Senator, and this should help Obama.)
N. Carolina has been a dead-heat lately, so if it stays close best bet is final count goes to Obama.
7:30:
Ohio has been leaning Obama, so if he wins, it's hard to see how McCain pulls it out elsewhere. BUT if Ohio stays too close to call, it could be a long night.
8:00:
Missouri has been a toss-up, and IF McCain has won BOTH Virginia and Ohio, he will win Missouri, and the Obama folks have a fight to the death on their hands.
KEY SENATE RACES TO WATCH…ALL are Republicans
Forget the "magic 60" beloved of pundits, as we reported earlier, not even that can overcome institutional and practical impediments to "dictatorship". Anyhow, Dems already control the agenda. Still, if the D's get close to 60, it will make things real tough for the R's, obviously.
6:00:
Kentucky, watch to see if Mitch McConnell can pull out a victory, it's leaning his way now. If he loses to Lunsford, then the D's likely WILL get 60.
7:00:
Georgia is leaning Chambliss, but he's been shaky and IF he loses, to Martin, he would likely BE the "60"th for the D's…it would be that kind of a night.
7:30:
N. Carolina, Liddy Dole has lost her lead and NC is now leaning to Ms. Hagan. SO, if Dole comes from behind, that will be an upset, and stop "60".
8:00
Maine has been leaning to the popular moderate Republican incumbent Collins, so once again, if it's a Big Night for the D's, and Allen is elected…60.
New Hampshire has been leaning to former Dem Gov. Shaheen, against incumbent Sununu, so if he pulls an upset, many bets will be paid out.
Texas has been leaning toward incumbent Cornyn, so if the D's Noriega pulls an upset, "GOP Armageddon".
THAT'S ENOUGH FOR NOW…LET'S RECONVENE IN THE MORNING…
5:22 pm
Early Exit Poll Data
From Jonathan Singer at MyDD:
The Economy: 62 percent
Iraq: 10 percent
Terrorism: 9 percent
Healthcare: 9 percent
Amazingly, more than a quarter of voters — 27 percent — indicated that they had been contacted by the Obama campaign.
A more progressive America: A full 51 percent of voters say they believe government should be doing more to fix the country's problems, while just 43 percent say the country should be doing less.
Fear: 30 percent of voters are scared of the prospect of a McCain victory, while 23 percent are scared of the prospect of an Obama victory.
Prepared: Just 38 percent believe Sarah Palin is prepared to be President, significantly less than the 67 percent saying Joe Biden is prepared.
Taxes: Voters expect to see their taxes raised; 49 percent foresee their taxes will be raised no matter who is elected, 61 percent see their taxes going up under McCain, 70 percent see their taxes going up under Obama.
More as we get it…
4:45 pm
I am beginning to think about the day after and am concerned that I am not hearing rumors about Senator Chuck Hagel serving as Secretary of State. The people I am hearing about are very much part of a Clinton III administration — not an Obama I administration. I hope the rumor-mongering is wrong and off target. We'll see soon enough.
The rumors about Rahm Emanuel as Obama's Chief of Staff are hardening. I have heard from insiders that it is "his if he wants it." And on Emanuel's side, I'm told, "he is thinking he wants it."
But this is not the night for thinking through these appointments — but it is important to see the Senate's and country's best strategic thinkers put to work for the administration. That means Hagel and others.
Some are saying that Larry Summers is moving ahead of Tim Geithner and Laura D'Andrea Tyson to be Secretary of the Treasury. Clinton III. . .There is even a "rumor" that Summers had a "what can I do about my female problem" dinner with Gloria Steinem. Can't confirm the dinner — but it sounds fun.
More later.
4:29 pm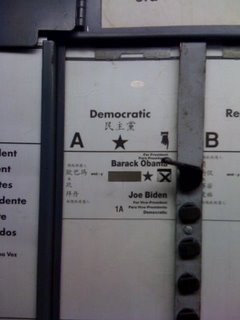 Fighting Intimidation Tactics — Tim Robbins Purged from Voting Rolls?! Reinstated!
This in from my friend Michael Shtender-Auerbach:
Dear Steve,
So I voted today for Barack Obama at my local polling station in Chinatown. (Image attached). Something horrible happened though. The gentleman in front of me asked "I only have an out-of-state ID – but am registered at his location". The poll worker (the Republican observer poll worker) refused to allow him to vote. I told her she was mistaken and that was not the law. She argued with me until I proved it to her. You can bring student id, out of state drivers license, utility bill, passport, public housing bill, etc…
The man was very appreciative of my intervention. I then quipped "obviously it's the Republican poll worker" – he shot back, "I am a Republican." All votes count. Don't let anyone get in your way today. Don't let anyone tell you you can't vote or your not on the rolls or you don't have proper ID. Even Tim Robbins was purged from the rolls in NY this morning at his polling place for over a decade and had to go to a Judge to be reinstated.
Do whatever is necessary.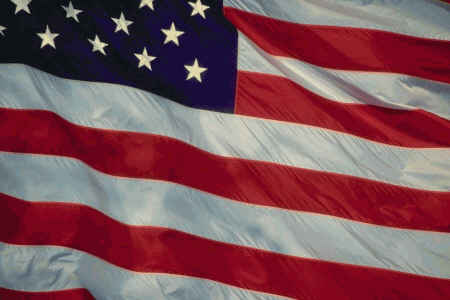 4:14 pm
Have been doing some news interviews — a bunch of foreign outlets. Sorry for being offline a bit.
Check out InTrade's numbers. InTrade is a "futures/probabilities market" for social, economic and political events. It's very interesting — not always right — but usually so.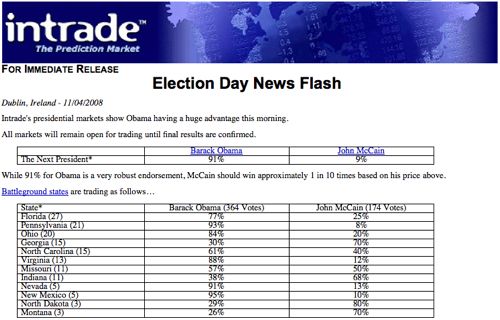 This is looking more and more like a genuine national landslide for Obama/Biden.
2:18 pm
Katrina vanden Heuvel Edits Post-Election Commentary in Poll Line
One of my spies in New York, Bill Hartung, sent this in on his voting experience this morning — and notes that Nation editor Katrina vanden Heuvel may have been editing a post-election editorial. . .
My polling place on the Upper West side of Manhattan was packed when I got there at about 8 a.m. One of the two machines assigned to us was down because it wouldn't let anyone vote McCain (not a big audience for that in my neighborhood anyway, but they rightly took the machine out of service).
The wait left lots of time for shmoozing with folks like my friend Lee Sigal, a specialist on the North Korean nuclear deal; and Katrina vanden Heuvel from the Nation who was looking over a piece that looked suspiciously like their post-election editorial (don't want to jinx anything, but you may imagine who the editorial was focused on).
Unfortunately, the line eventually moved and I had to get back to normalcy;
by 9 o'clock I was on the way to the subwaym, then on to work, catching up
on emails, thinking about foreign policy, etc.
Looking forward to seeing how our talented bunch seeks to influence
(and infiltrate?) the new administration.
2:09 pm
Vote and Vax?
This from Deputy Director of New America Foundation's American Strategy Program Patrick Doherty:
Also voted in DC. Took 15 minutes.
Besides the fact that we still suffer from taxation without representation, the most notable presence at the polling place was the flu shot station, part of a "vote and vax" campaign.
And this from California-based oil and energy expert Lisa Margonelli, author of Oil on the Brain: Petroleum's Long Strange Trip to Your Tank, wrote this to me:
1. About 6 minutes. I arrived in at the precinct in Berkeley, CA two minutes before the polls opened, joined a short line, and then I was number five in my precinct to feed my ballot into the machine.
2. When I voted the people in line were predominantly asian and south asian, and seemed very young. The precinct was asking people to cover their ballots with a folder, which they called a "secrecy sleeve." The elderly poll worker seemed uncomfortable saying the word "secrecy sleeve' so the much younger ballot feeder kept barking "Take a secrecy sleeve!" over the mumblings of the guy handing them out.
Oakland and Berkeley are big democratic zones, obviously, but in Oakland there's a sort of party machine that runs the show. In '04 I went to vote absentee at an East Oakland polling place and the woman minding the absentee ballot box refused to take my ballot until I stated whether I was Democrat or Republican. At first I protested that that was unnecessary but she made it clear in a loud way that she wasn't going to put my ballot in the box until I said I was a Democrat. The process made me really dislike the machine though I basically agree with their votes. And it was ironic because so many Kerry voters were spinning conspiracy theories about how their votes would be stolen that year. This year, though, I had my secrecy sleeve.
1:43 pm
Bernard Schwartz is having a 1,000 person black tie gala election watching party tonight at the Rainbow Room at Rockefeller Center. His right hand just asked me what TVs and programs they should turn into for tonight's coverage.
I said MSNBC (isn't Rachel Maddow just everything? I'm so excited be doing her radio show on Air America in studio tomorrow) and CNN (I really like Jeff Toobin).
And of course — Jon Stewart and Colbert. But if there are other greats out there, zap me a note.
This is also in from "Rebecca" who is one of the great Helen of Troy's of Obama's Ohio field operation:
Hello from Ohio. I'm out knocking on doors.1) 2.5 hours2) I voted early (yesterday) in cleveland. Lines have been between 2-5 hours all week. Cuyahoga county didn't turn out in the numbers hoped during the primaries so this is signifcant. African American turnout is huge. LOTS of people bringing kids along. We knocked 1 million doors in Ohio yesterday.
1:33 pm
Rational Exuberance?
This just in from yet another colleague:
LINES AROUND THE BLOCK!!!! And then driving into work every polling place I saw was lines and more lines. . .Woman at the front of the line got there at 5:00 a.m. The lines and the fact that it rained (not too common in L.A.) were the most noteworthy. And that I resisted yelling "vote obama!!!" in the polling place. . .
Oh. . .and I hit a car coming into work (no injuries or too much damage) because I was so excited and distracted about the election!!!
1:27 pm
Voting in Florida???
I just received this rather pithy note from a colleague of mine who voted already: "Nothing too interesting about my ballot except that I voted absentee two weeks ago in the infamous Palm Beach County, FL, so either my vote won't be counted at all, or it will be counted five or six times."
1:17 pm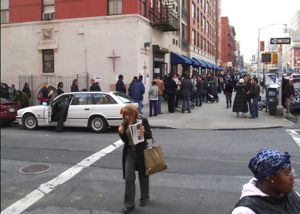 A major Democratic Party donor just sent me this pic of Harlem voting and said "this is what it was all about."
1:11 pm
Recently, I visited Vienna, Austria as part of the Department of State Visitor's Program and met a really interesting array of people — all about a week before right wing icon Joerg Haidar's death.
One of the cool places I encountered was MODUL University in Vienna and its Department of New Media Technology run by Arno Scharl. Dr. Scharl has been running a comprehensive survey of the political leanings of the top political new media and blogs.
The New Media center just posted its findings — with data from the very last minute before voting today — on line about 20 minutes ago.
This MODUL University survey finds that Barack Obama has captured 42% of media attention and John McCain 35%.
Joe Biden captured 5% of total medai — and nearly all of it positive. Sarah Palin attracted 18% of the media pie — with a real mixed assortment of negative and positive attention.
12:19 pm
I just did an interview with the German Sueddeutsche Zeitung DC Bureau Chief Christian Wericke on the talents of the ever-balanced John Podesta, who was Bill Clinton's last chief of staff and who now serves as President of the Center for American Progress.
Made the train and am hearing stories of very long lines at Starbucks all over D.C.
One of my enterprising colleagues at the New America Foundation asked folks to weigh in on their morning poll experiences — noting anything unusual that they saw or experienced. Here are a few of the vignettes from folks who have chimed in:
1. 1 hour, 10 minutes in Falls Church, although by the time I got out (8:15) there was virtually no line–I think it was a matter of getting the process underway.
2. Well I cast my ballot about two weeks ago with an absentee ballot at the Board of Elections in Brooklyn. And I waited about 45 minutes because there were so many people waiting to vote!
3. Bin Laden watcher and terrorism expert Peter Bergen wrote "Steve, I waited an hour and a half at the polling place at 15th and R NW. there were more than two hundred in line at just after 7am."
4. My colleague Jamie Zimmerman wrote:

a) 1 Hour 15 minutes
b) Surprised that 2 school buses, 1 church bus and about a dozen cars honked at the line all the way down the block….sigh, not that noteworthy, I guess, but, I got a call from my mom in Georgetown Kentucky at 8:30 saying she and my father waited in line for "over an hour" to vote in that tiny town notorious only for a Toyota Plant, a Bengals Training Camp and a tiny private christian college. In every election she can remember, this is the only time she's had to do anything more than walk right in and cast a ballot. Noteworthy? Maybe, for Kentucky….
On other fronts, my Irish blogging nomadic friend, Gavin Sheridan, is live-blogging from the streets of Chicago. Catch his photos and vignettes here.
Everyone on Amtrak is talking about the election — even in the "Quiet Car." Shame on them. . .sort of. It is an exciting day.
I'm anticipating lots of happy tears tonight.
9:12 am
I snapped this pic while voting this morning. The line extended way outside the building and down the street. In 2004, I was in and out of this polling station in three minutes flat — but then again, I went about 11 a.m.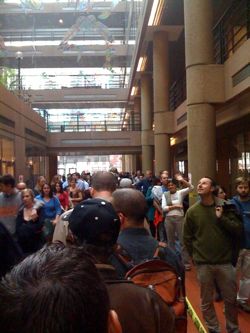 A friend wrote this to me about working phone banks in New York last night:
I was at Barack's HQ phone bank at wall street last night and 700 to 800 people came to make phone calls and they had to stop letting people in because there was no room left…
This note came in from a close Israeli friend who was at the huge gathering for Obama in Manassas, Virginia yesterday evening. Highway 66 was gridlocked:
I returned home a little while ago from the Manassas rally – very powerful, very moving. As someone who does not have the right to vote here – it is such a privilege to be in this country at this time – and I have gained an enormous amount following this campaign. thank you.
It is important to think about the impact an Obama win will have around the world – how that will reverberate, what it means for how the US is viewed, the hope this will inspire so far beyond your borders. Obviously – with Israeli elections around the corner – and the paucity of choices there – I am also more than a little jealous……
Hopefully this will be a day to savour – after that the huge expectations will have to begin to be met. . .
Now I need to begin making my way to New York.
8:30 am
I was just off a bit before 7 am this morning to vote at the Reeves Center at 14th and U Streets NW in Washington, DC. I got out of there at 8 am and thought it was an hour well spent.
I have voted, picked up my Starbucks Tall Coffee and snapped this pic: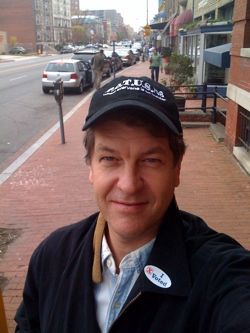 For those of you who missed it, I did issue this note about who I voted for and why. I rarely publicly endorse and don't vote a straight party line ticket.
However, I have supported Lincoln Chafee for Senate in the past. I always support Jeff Bingaman, my former boss in the Senate who now chairs the Senate Energy Committee. I like Republican congressman Jeff Flake in Arizona. Darcy Burner would be my choice in Washington State. I am opposed to Proposition 8 in California. I preferred Senator Chuck Hagel as my presidential choice but didn't get that opportunity. Joe Biden was my choice for VP over Evan Bayh and other contenders. This morning, I voted for the Barack Obama/Joe Biden ticket.
In the first local election held — Dixville Notch, New Hampshire — Barack Obama won over McCain 15-6. Obama is the first Dem to win that contest since 1968.
I'm training up to New York in a few minutes and will be checking in all day with updates and live-blogging later here and at Huffington Post.
To check out what a lot of other writers, pundits, or bloggers are doing tonight as the returns roll in, here's a list from Media Bistro — and yes, I'm included. For those who don't like hearing about the parties I go to, don't click it.
More later.
— Steve Clemons
The Washington Note
Continue reading:

A New Day
My Vote Tomorrow: Barack Obama and Joe Biden