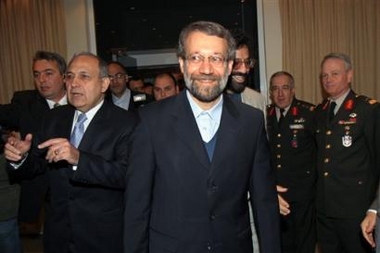 A few years ago, I met then chief Iran nuclear negotiator and now Parliamentary Speaker Ali Larijani at the Arab Strategy Forum in Dubai.
I asked him about what his country's next moves would be with regard to its nuclear energy ambitions and whether or not Iran would finally accept and constructively work towards a round of deal-making in which its nuclear agenda and other interests could be brought into alignment in such a way as to lessen rather than increase global concerns.
Larijani's answer was short and memorable:
"You Americans play baseball. We in Iran play chess."
He went on with a bit more — but essentially he implied that Iran was already on a constructive course, a smart course advancing its interests — but that the United States was too immature and un-strategic to play in Iran's league and needed to improve.
Given the often keystones cops character of George W. Bush's foreign policy team — and the nefarious intentions of an influential faction of the Bush team — I have to say that I didn't entirely disagree with Larijani's characterization.
I recounted this story about Larijani shortly after at a dinner I chaired featuring then Saudi Ambassador to the US Prince Turki Al-Faisal, who for two decades headed Saudi intelligence.
I asked Prince Turki:
"Ali Larijani says we Americans play baseball and he and the Iranians play chess. What do you Saudis play?"
Prince Turki responded:
We play an ancient bedouin game, Massageel, involving throwing the knuckles of camels. . .
The Washington Post's David Ignatius exclaimed out loud:
Sounds like that beats chess!
Larijani is now publicly chastising some members of the Guardian Council for siding with "a certain presidential candidate" and holding bias in their consideration of public complaints about the election. His reference to the unnamed candidate is clearly Ahmadenijad — which raises some really interesting questions about what role Larijani sees for himself in whatever next order is established in Iran.
On one hand, Larijani is a well known backer and ally of Ayatollah Ali Khamenei. On the other hand, he is a political rival of (and known to be disgusted by) Mahmoud Ahmadinejad.
Larijani has come out and raised questions about the "shameful" statements made by the United States, France, Germany, and Great Britain during the election — calling for re-evaluation of Iran's ties to Europe. I don't take Larijani's comments criticizing these foreign countries seriously as this may be done simply to innoculate himself from accusations of being a tool of outsiders — while at the same time raising fundamental questions about the legitimacy of the vote and the legitimacy of the Guardian Council itself.
So, perhaps Larijani is playing chess. Or perhaps he has learned some other games like the knuckle-throwing Massageel while hanging out around the broader Middle East.
And if Larijani wants some other camel and sheep knuckle options, I've been informed by Saudi friends that Alkeaba is pretty good.
Another recommended by a member of the Saudi royal family is Um tiss'ah, where two players have nine knuckles a piece and each tries to line up three on a drawn square on the sand that has lines drawn in it intersecting in such a way that players can only bring three knuckles in line with each other; a bit more complicated than tic tac toe — but less painful than the other camel and sheep knuckle games.
— Steve Clemons