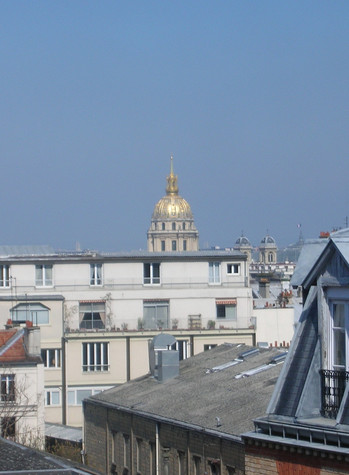 Author's note: some of the links in this article are in French, apologies.
This is the view out my window in Paris of the Hotel des Invalides, where French President Nicholas Sarkozy gave a moving tribute to the 10 French soldiers killed in Afghanistan on August 18th. In it, he evoked the suffering of the families of the soldiers, before saying that France would suffer at home if they were to leave Afghanistan. The chairman of Sarkozy's party, Patrick Devedjian, said that, "the security of our societies is at stake in Kabul."
I've been in France since before the tragic ambush, and have been following news coverage of it since then. It has just started to die down, but is far from going away. What has been fascinating is that though a wide range of opinions has been put forward about the war and the presence of French soldiers there, and there has been much criticism of Sarkozy's administration and the war effort, there have been surprisingly few calls for French soldiers to leave Afghanistan entirely.
While Prime Minister Francois Fillon agreed to have a vote on the future of France's presence in Afghanistan, I have seen little evidence of much desire for this retreat in the press or from the major political parties, despite the conflict getting heavy discussion online and in the media.

The more conservative newspapers like Le Figaro have, on the whole, supported Sarkozy's argument that France is in Afghanistan to defend freedom and eliminate the threat of terrorism. French standard-bearer Le Monde has chronicled the Socialist Party's deep divisions over whether or not to fight for withdrawal. And as the New York Times pointed out last week, the editor of the left-leaning newspaper Libération called the war unwinnable, but said that retreat would be "the worst solution".
The satirical daily Le Canard Enchaine (regrettably not available online), also known for hard-nosed reporting, called withdrawal an "excellent idea" last week. But that was only one line on a page of articles about Afghanistan.
Rather, the emphasis has been on figuring out what went wrong, and why. In particular, serious questions have been raised about what NATO and American policy is regarding the future of Afghanistan, and what specific plans American commanders have for winning the war.
While it may not seem like it, this questioning is a unique opportunity. Senator Obama has placed Afghanistan at the center of his foreign policy strategy. He has cited the lack of troops there to bolster his argument that troops should be withdrawn from Iraq, to support operations in Afghanistan. Senator McCain has argued for a "surge" in Afghanistan, explaining that the same strategy that has in part brought a reduction in violence in Iraq can be applied successfully in Afghanistan.
Both Senators have called for more troops in Afghanistan, and quibbled over the number. But the debate going on in France right now throws light on the fact that neither candidate has sufficiently explained how precisely they intend to turn the war around.
Just adding more troops may reduce violence in the short term. But it will not be enough to turn the tide against a resurgent Taliban that has a safe-haven in Pakistan, reaps huge profits from Afghanistan's opium trade, and effectively controls large portions of the country, including much of the area around Kabul.
Despite harsh criticism of the Iraq war, France has been a steadfast supporter of the war in Afghanistan. There are 3,000 French troops in the country now, and there is talk here that the government is contemplating sending more, including special forces. But real leadership is required from both candidates to keep our allies in the war with us, and to turn Afghanistan around.
–Andrew Lebovich