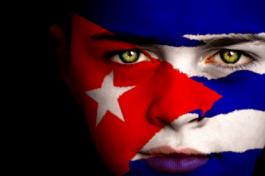 I am at the University of North Carolina at Chapel Hill this morning joining a panel titled "Cuba and the United States: Historical Perspectives, Political Prospects." (last night I discovered a new drink, the blackberry mojito)
The conference, "The United States & Cuba: Rethinking Engagement" is sponsored by the Institute for the Study of the Americas at the University of North Carolina at Chapel Hill.
If you are into Cuba policy, some giants are here including former State Department Chief of Staff Lawrence Wilkerson, former American Interests Section Director in Havana and Center for International Policy Senior Fellow Wayne Smith, National Security Archive Latin America project director Peter Kornbluh, Lissa Weinman of the World Policy Institute, Kirby Jones of the US-Cuba Trade Association, Phil Peters of the Lexington Institute, Geoff Thale of the Washington Office on Latin America, William LeoGrande at American University, Sarah Stephens of the Center for Democracy in the Americas, Al Fox of the Alliance for Responsible Cuba Policy Foundation, and others.
Cuba matters — but I don't have the time on the blog this morning to lay out my particular case as I'm speaking shortly.
However, my remarks this morning will build on those from a forum I did recently with the Nixon Center in Washington titled "What Would Nixon Do on Cuba?"

This was a great forum featuring Nixon Center President Dimitri Simes, Council on Foreign Relations Senior Fellow Julia Sweig, former Bush administration senior National Security Council official Flynt Leverett, and former Colin Powell aide Lawrence Wilkerson.
I'll also be reflecting on the comments that Brent Scowcroft, co-author of the recently released New America Foundation/Basic Books release, America and the World: Conversations on the Future of American Foreign Policy, made to me:
My answer on Cuba is Cuba is not a foreign policy question.
Cuba is a domestic issue.
In foreign policy, the embargo makes no sense.
It doesn't do anything.
It's quite clear we can not starve Cuba to death.
We learned that when the Soviet stopped subsidizing Cuba and they didn't collapse.
It's a domestic issue.
Back to DC tonight to watch the "debate". Tomorrow off to Vienna, Austria.
— Steve Clemons
Continue reading:

Post by Nir Rosen: Blowback from Iraq
Global Credit Markets Choking Up