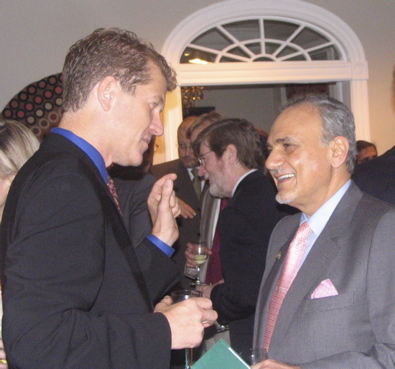 (pictured to left: New America Foundation foreign policy programs director Steve Clemons and then Saudi Ambassador to the US HRH Prince Turki Al-Faisal)
On the 27th of April, less than two weeks from now, the New America Foundation and Committee for International Trade of the Saudi Chambers of Commerce will be presenting a significant national policy forum titled "US-Saudi Relations in a World Without Equilibrium."
I have long been a fan of the "no false choice" framing that Senators like Chuck Hagel, (then Senator and now Vice President) Joe Biden, John Kerry, Richard Lugar and others apply to complex issues like Israeli-Arab relations, NATO-Russia issues, China-Japan complexities and so on. Most serious strategic challenges cannot be met with binary responses or simple zero sum games.
But the truth is that in Washington, DC there are not enough forums that allow open, candid discussion about the geostrategic challenges facing the United States and other global stakeholders — whether or not their system of government approximates our own.
And in this basket, i think that some of the most significant global actors today are China, Russia, Germany, Japan, Iran, Saudi Arabia, Brazil, Turkey, France, the United Kingdom, Israel, Pakistan, India, and perhaps a few others.
Saudi Arabia, in any serious accounting, is fundamental on a great number of levels — but Washington too frequently tries to sidestep or to indirectly use winks and nods to manage a vital strategic alliance in the Middle East that not only has relevance to global oil and energy realities, but impacts the ecosystem within which Israel exists, in which other Arab states are evolving, and Iran's regional aspirations are given some counter-weight. On top of this, Saudi Arabia is now being called on to help significantly enhance the resources of the IMF during this major global financial crisis.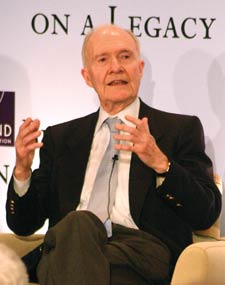 This conference will be part public and part private — with the public part streaming live on The Washington Note and New America Foundation websites from 8:30 am EST on Monday, 27 April until approximately 3:30 pm EST on the same day.
The kickoff speaker for this major conference at a private dinner on Sunday evening, the 26th of April, will be former National Security Adviser to Presidents Gerald Ford and George H.W. Bush, General Brent Scowcroft.
The speaker and participant roster is quite impressive in my view — and I believe that we will generate a constructive discussion about challenges that have yet to be met in the bilateral relationship, in economic coordination, and in the broader Middle East.
The former Ambassador of Saudi Arabia to the U.S. and the more than two decade Director of Saudi intelligence HRH Prince Turki Al-Faisal will also be appearing in this national policy forum.
In coming days, I will announce other speakers and parts of the schedule — but I wanted to give an early alert of this forum now — as well as acknowledge the participation of General Scowcroft and Prince Turki.
— Steve Clemons