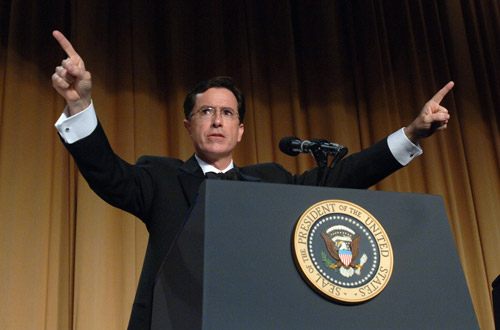 WHITE HOUSE CORRESPONDENTS' DINNER
Tonight, the mega-insider dinner party for White House-tethered media — and increasingly, bloggers, and their friends — is being held at the Washington Hilton. TWN was slated to attend but the chief correspondent got waylaid by a really awful chest cold that he would not have wished on anyone — not even those attending the dinner. This will be the LAST of President Bush's WHCA dinners. Something to toast?
CLINTON CHALLENGES OBAMA TO LINCOLN-DOUGLAS STYLE DEBATE
Hillary Clinton, hoping to shake up her rival's edge, has challenged Barack Obama to a Lincoln-Douglas style debate with no moderators. After the furor after the ABC debate held last week and accusations that neither Charles Gibson nor George Stephanopoulos pushed the candidates hard on issues the public cared about. Obama's campaign is studying the proposal.
Update: Obama Campaign says no to Hillary — an hour after TWN posted this item.
Obama's campaign stated:

"We have participated in 21 nationally televised debates, the most in primary history, including four exclusively with Senator Clinton. Senator Clinton refused an earlier invitation that had been accepted to debate in North Carolina. Over the next 10 days, we believe it's important to talk directly to the voters of Indiana and North Carolina about fixing our economy, cutting the cost of health care and ending a war in Iraq that never should have been authorized in the first place."
OBAMA AND COLLECTION AGENCIES?
No, he wasn't getting a dividend from them — he was being chased by them, according to Michelle Obama.
The Obama campaign is doubling its efforts to remind voters of their candidate's humble roots given his failure to win over working-class voters in Pennsylvania. Michelle Obama, the daughter of a Chicago city pump operator, in a speech in Fort Wayne, Indiana yesterday described what it was like when she and newlywed husband Barrack used to get phone calls from collection agencies. "I remember those days clearly, sweating to get that mail. . .That collection agency, the loan debt people calling you telling you that you've got a few more days before you're in trouble."
At stake in Indidana are 72 delegates that the Clinton and Obama camps covet. Clinton is targeting the state's southern rural towns and the large auto plants in the central part of Hoosierland. Obama is depending on black voters in Indianapolis and Gary, as well as students in the college towns of Bloomington and West Lafayette.
LOOSE ENDS
. . .Three decades of archival materials from the Grateful Dead — including business records to stage backdrops — have been donated by the rock band to the University of California-Santa Cruz McHenry Library. The materials document the band's ascendance into one of world's most influential bands.
. . .When the Spanish government appointed a pregnant defense minister, the military establishment laughed. But now the Spanish military is furious that Defense Minister Carme Chacon's first act in office has been to ban the boys in uniform from watching websites featuring soccer or naked women.
. . .This week the Alabama state legislature killed a proposal to require the use of English in driver license exams, saying the ideas were as divisive as former Gov. George Wallace's l963 stand against desegregation.
— TWN Staff
Continue reading:

Gravity Takes Bite Out of "Obama Wind"
The Syria Nukes Background Briefing