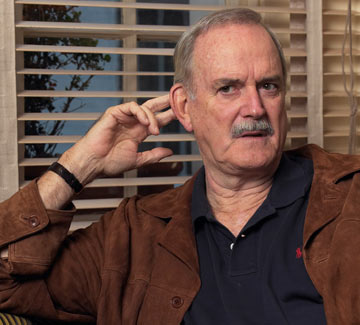 About a year and a half ago, I attended a very nice reception in New York in honor of German Foreign Minister Frank-Walter Steinmeier. Lots of Germans there and many top tier German, European, and American media from Washington, New York, and Berlin. A number of Ambassadors stopped by including then US Ambassador to the United Nations Zalmay Khalilzad.
I was introduced to Deputy Permanent Representative of Germany to the UN Martin Ney who was quite a nice fellow — even when he told me I was definitively not invited to join other American, European and German journalists in a follow-on rooftop reception with the Foreign Minister.
He made it clear to me that there was nothing personal in his encouragement to me to move on but that I wasn't a real journalist and was "only a blogger" — and that after all, he said, "I understood the difference."
DC bureau chiefs and international correspondents of the Frankfurter Allgemeine Zeitung, Sueddeutsche Zeitung, Der Tagesspiegel, Die Zeit, Der Spiegel, Stern Magazine and others put up a mild protest but the German diplomat held his ground — and I went off to hang out with diplomats connected to the blogger/British Foreign Minister David Miliband.
Despite my vivid memory of all of this, it wasn't all that big a deal — but it did imprint on my mind the different stances that countries take towards new media and bloggers — particularly serious political and policy bloggers who run in a lot of the same circles as the mainstream types.
Barack Obama just called on my good friend and Huffington Post White House correspondent Sam Stein at his first White House press conference — which will go a long way toward legitimating policy and political bloggers as a legitimate part of the fourth estate.
Allison Silver, former editor of the Washington Independent, has successfully agitated for new media enterprises and journoblogging (aka "online only reporting") to be considered within the realm of the Pulitzer Prize awards.
The Washington Note was just recognized by the Sunday Times of London as one of the most significant leading international affairs blogs in the world.
But plaudits aside, it is interesting to take a cursory look at how some Embassies are dealing with new media, using or ignoring the tools that online video and blogging can provide, particularly with the anti-blog bias that Deputy German Ambassador to the UN carried with him about 18 months ago.
First of all, with regard to the German side of the equation — I do want to note that the CDU-connected Konrad Adenauer Foundation invited me to Germany to help various government and party officials think through the new world of "framing" — along the lines of a Frank Luntz or George Lakoff and spent a great deal of time absorbing what I could share about the rapidly evolving world of online political organizing, fundraising, cluster-building, blogging, YouTube posts, and more. I was really impressed with how much these folks already knew about this world and how little of it they could use given their sense of constraints in the German political system.
Two of the more interesting exchanges I had about new media and politics with German officials were with North-Rhine Westphalia's federal state Prime Minister Juergen Ruettgers and on a separate occasion Petra Roth, Mayor of Frankfurt and President of the German Association of Cities. Both of these interesting politicians were deeply engaged and peppering me with questions about how to create an innovative ecosystem that would encourage more political participation via new media. I told both that the first thing they should do is get on Facebook. Hasn't happened yet — but it may soon.
And of course, German Free Democratic Party Chairman Guido Westerwelle, a good friend who may end up as Germany's next Foreign Minister, is extremely comfortable with new media — some say almost too comfortable. . .but those who are watching him now see both his and his party's popularity surging in the polls. The Friedrich Naumann Foundation (closely affiliated with the FDP) is also getting into the new media craze and investigating how to bring some of the methodology and vehicles to the German scene.
The Greens are also very innovative in the new media space. In fact, Cem Oezdemir and Reinhard Buetikofer, the new and former Green Party Chairmen, are both into blogs, new media, really good video work, and Facebook. The Boell Foundation's chief Ralf Fuecks is also a new media maven now.
So the German story has improved over the last 18 months — and the German Ambassador to the US Klaus Scharioth, while not himself blogging (yet) and not heavily into new media if the Embassy website is any sign, nonetheless has a nice video commentary posted in the lower right hand 'corner' of what is called the "Ambassador's Corner."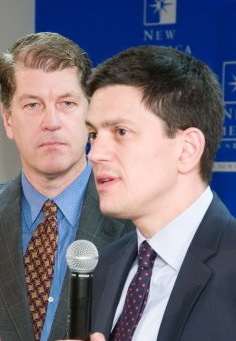 On the British front, I have been very impressed with David Miliband's commitment to blogging and to using the net as a way to engage in high quality public diplomacy. As mentioned above when I was excused from the Frank-Walter Steinmeier gathering for not being "real", Miliband at the same UN General Assembly session was actively seeking out bloggers to connect with. The UN Dispatch's Mark Goldberg hosted a meeting of about 15 bloggers with Miliband at that General Assembly, and the United Nations itself accredited all of us there as journalists.
Miliband's leadership has been telegraphed out to many Embassies — and now UK Ambassador to the US Nigel Sheinwald, who has been one of the most significant foreign policy sculptors in Britain during Tony Blair's years as Prime Minister and now doing much to animate and advise Gordon Brown, is a blogger along with many of his other colleagues. I still want them to get John Cleese to help give an intro to their blogs — asking in Cleesian form whether the reader blogs, reads blogs, likes blogs, or just despises blogs and prefers to watch TV. . .something along those lines. I'm also trying to get the Brits to use action shots in their profiles rather than the too stiff mugs they are using now.
The British Embassy's blog in Zimbabwe was just recognized as one of the best in the world by the Sunday Times of London, though I'd rather not go into why. You can read that yourself here.
And now finally the French.
Last year, when President Nicolas Sarkozy came to town, he brought his own personal blogger, Loic Le Meur. The blogger got to attend the State Dinner, and it was a real breakthrough.
Jean-David Levitte, former French Ambassador to the US and National Security Advisor to the French President, did on occasion read The Washington Note — though mostly when I sent him a clip. But he did read it, or pretended well.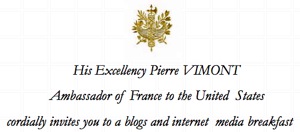 And now in an 'adjustment' to tradition, Ambassador of France to the United States Pierre Vimont is going to begin regular meetings with bloggers, much like he has with other news media. They will be off the record — BUT, they are happening. . .and until I get expelled, I plan to be there.
If one ventures to the French Embassy website, it is packed with impressive video clips. On the front page, there is a nice clip with Finance Minister Christine Lagarde — but the Ambassador's clips provide a rich collage of commentary from him, and show him responding to questions at meetings that weren't contrived or overly scripted.
Engaging bloggers and new media does involve some risk. The patterns, habits, and norms differ from mainstream media — not completely but just enough different to give some who are worried about "control" a lot to pause over and worry about.
Eighteen months is a long time in terms of the blogosphere and the internet. I imagine that when potential Foreign Minister Guido Westerwelle is hosting a reception in New York, the blogger types may even get the first shout out.
The great thing is to see progress in the diplomatic corps representing the three capitals and states Obama visited during his campaign trip to Europe — London, Paris, and Berlin.
But with a friendly nudge to my friends in the German Embassy, a bit more video please — and perhaps even a blog note now and then from Ambassador Scharioth's team would be a welcome addition to the "diplo-blogosphere".
— Steve Clemons