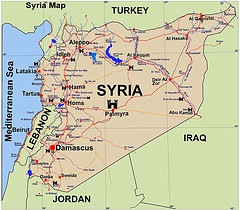 (Photo credit: Eric Molly's photostream)
President Obama's decision to reopen negotiations with the Syrians is about much more than bilateral relations between the two countries. Syria's cooperation is integral to initiating game-changing policies toward Iran and to achieving progress on the Israeli-Palestinian track.
As someone who knows little about Syrian politics and history, I have been consulting analysis from a variety of sources in order to understand Syria's role in the region and what negotiations might be able to accomplish.
I have compiled a list of some of the best commentary I have found below. I tried to include a variety of perspectives.
I hope that you find these articles valuable.
— Ben Katcher