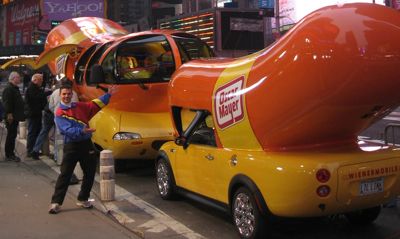 Washington, DC is actually, really, seriously becoming a hip place. Helene Cooper — the New York Times' diplomatic correspondent — is occasionally forced to write for other sections of her paper, and she's been asserting that DC hipsterism is on the upswing more by assertion than empirical surveys. . .but I'm now with her.
While Cooper — who no doubt will soon be featured on Oprah when her personal memoir of growing up as a youthful Liberian elite until civil war hit and she was returned to the America her Liberia-founding forefathers departed and compelled to fit in with red state African-Americans hits Barnes & Noble — is looking for sizzle and drama in DC's restaurant, club, and think tank scene, I look for what the "people" here are doing.
I have three entries — big ones, sort of. And they are both from three neighbors on 17th Street in Dupont Circle.

First of all, my neighbor two doors down from me on my street — Raelyn Campbell. She was my intern 16 years ago in Los Angeles in a Japan related NGO and now works for the National Bureau of Asian Research.
She popped up in DC a couple of years ago and bought a wreck of a Victorian home that was in desperate need of a milliionaire but got her (and she's not a millionaire) — and she's wrestled it into shape. She's now laid her own brick sidewalk, ripped down and rebuilt her own walls and ceiling, personally built her own back deck, painted a three story house — front and back — on her own. She put in several bathrooms — ON HER OWN. NO CONTRACTORS. She's looking for a guy to date, a partner — but frankly she intimidates them (duh!). But why you may ask is she important?
Raelyn Campbell has a wild story. She bought a computer at Best Buy. It malfunctioned. She took it back to be repaired. They apparently lost it — lied about it — and lied about it — and lied about it — and then. . .lied about it.
Now, she's suing Best Buy for $54 million for identity theft transgressions and all sorts of other stuff, not because she thinks she'll get that amount of money but because that is the amount that a deranged judge sued an innocent and struggling dry clear operation for in the Washington area — and she thought the number would appeal to the media. She was on MSNBC, the Today Show, and is putting her incredible story to Best Buy. She's my former intern, my neighbor, and my pal — and Best Buy is in for a wrestling match like it has never had before.
OK — then there is Bill Blansett, my neighbor (and tenant) downstairs until he took off on a secret marketing campaign (that as of today's debut on ABC is not so secret) for the Oscar Meyer Company. When I first met Bill, among about a hundred folks that wanted to rent a rental unit attached to my place, I knew he was special. I didn't know why — but like any smart landlord, I googled him and discovered that he had been a popular "hotdogger" driving the Oscar Meyer vehicle around the South. . .Huckabee country — or Obama country, depending on how one counts.
Today, Bill Blansett was on "Good Morning America" launching Oscar Meyer's new "mini dogs". How? Well, he's the first official driver of the Mini Cooper Dogger — or the Mini Dogger in a Mini Cooper — or something along those lines. I just watched his segment with the folks from the "Today Show" — and know that he'll be on "Fox and Friends" on Friday. Oscar Meyer is probably buying a ton of advertising to get the publicity, but hey — it's from a guy on my street here in DC, two doors from the Best Buy-breaking Raelyn Campbell.
I haven't been able to find the podcast of the Mini Cooper Dogger's debut on any podcast — but here is a video of 17th Street's own Bill Blansett actually singing the Oscar Meyer Weiner song. You have to go to this site. The password is p4thtk. It's fun.
But note to Oscar Meyer — what's up with this website?????
Then, there is my crazy and hopeful and wonderful pal, Dal LaMagna, who hosted Cindy Sheehan in a home that friends of mine assembled and he bought — in its entirety — art, furniture, all of it.
Dal LaMagna won eight votes in the New Hampshire Democratic primary and was on the ballot in other states. He ran for President to try to bring the Iraq War to a close. He is the founding CEO of TweezerMan, a socially responsible firm that he sold — and he's since helped all sorts of important progressive causes, including giving Cindy Sheehan and a variety of outher international do-gooders a good place to lobby the Washington power establishment from and get some good waffles.
Anyway, it's an increasingly cool street — 17th Street in Dupont Circle, and I live here too.
Come visit. We'll put a mini-dog on the barbee, bring Best Buy to a heel, and end the Iraq War.
— Steve Clemons