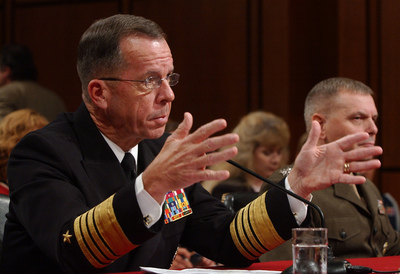 On Monday evening, I heard Joint Chiefs Chairman Michael Mullen speak at the annual Atlantic Council gala dinner, following Rupert Murdoch, Jim Jones, Brent Scowcroft, Tony Blair, and Colin Powell. I've been a fairly strong fan of Mullen since he ascended to his most recent post, but last night knocked him down a few notches.
Without offering more than assertion — and certainly going farther than Defense Secretary Robert Gates has gone as of late, Mullen stated that Iran is responsible for coalition soldier deaths. After CentCom Commander William "Fox" Fallon's departure, this kind of heightening of rhetoric may be designed more for Ayatollah Khamenei's handlers than the seven hundred people at the Ritz Carlton last night.
Mullen stated:
We also live in a time where Iran routinely pushes its way into more and more realms of instability. And I, for one, think it is important that we deal with that instability that they create, whether it is Hezbollah, Hamas.
Recent operations in Southern Iraq, recent combat operations in Southern Iraq in Basra highlighted yet again Iran's activities in ways that very specifically pointed to activities which, in fact, resulted in the deaths of coalition soldiers. And I think for the ability to create stability in that part of the world that not just this alliance, but those who are allied, will have to deal with Iran in the very near future.
More on this later.

— Steve Clemons