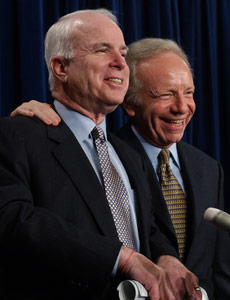 John McCain is said to be extremely "eaten up" that he allowed party advisers to push him to appeal to the base of the Republican Party and choose Sarah Palin over his preferred choice, Joseph Lieberman.
But that would not have helped him in the worst decision of his campaign — to abandon realist principles in foreign policy — and embrace the kind of neoconservative thinking that had already had a tragic run in the Bush administration.
Edward Luce of the Financial Times gets at this in a piece on McCain's temperament and the divide he's aggravated inside Republican circles. Even my former boss at the Nixon Center, Dimitri Simes, joins the chorus:
Then there are the "realist" Republicans who worry that Mr McCain has been captured by neoconservative advisers, such as Randy Schuenemann, his chief foreign policy guru, who has helped shape the candidate's relatively hardline stance on Russia, Iran and other issues.
This has combined with Mr McCain's tendency to view foreign policy as a kind of "morality play" in which there are people who oppose America and people who do not, they say. Foreign policy was a key reason why Colin Powell, the former secretary of state, chose to endorse Mr Obama on Sunday.
"I don't know of anybody, anywhere other than John McCain who thinks Mikheil Saakashvili is a 'great leader' of Georgia – it is an absurd evaluation," said Dimitri Simes, head of the Nixon Centre in Washington. "John tends to see the world emotionally through characters he knows. And once he has decided who the good guys are and the bad guys are, then facts and context won't affect him."
Few, if any, of these doubts are in evidence at the boisterous McCain-Palin rallies, which are filled with Republicans who also disdain Washington and who respond well to Mr McCain's rallying cry: "Stand up! Stand up! And fight for America!"
Completing Oliver Holmes's dictum – that FDR had a "second-class intellect" – Mr Buckley said: "Obama not only has a first-class temperament but he also has a first-class intellect. There is no doubt that John is very bright but you know Obama writes his own books. John gets his books written for him [by Mark Salter, his closest aide]."
Detractors accuse Mr McCain of dividing America. But the most acute cultural divide his campaign is exposing is within the Republican party itself.
More soon.
— Steve Clemons