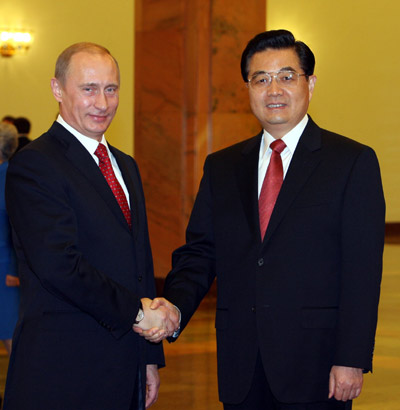 Win Monroe is a research intern at the New America Foundation.

Leaders from both Russia and China had harsh words for American-style capitalism at the recent World Economic Forum in Davos.
But, as energy prices collapse and demand for exports fall, the legitimacy of these autocratic state capitalists is also being called into question. The contract these governments signed with their citizens – which promised prosperity in return for loyalty – is showing strain on both sides.
As the crisis unfolds, Russian citizens increasingly object to the Kremlin's handling of economic policy. Despite the cold weather, this has led to a marked increase of demonstrations and political activism, including a rally in Moscow that resulted in police beatings and 61 arrests.
Meanwhile, the financial crisis has also sent China's economy reeling due to the sharp decrease in global demand as consumers reign in spending. As factories slow down production, they have already laid off more than 20 million migrant workers who have flooded the cities for jobs or have returned to the countryside. This is likely history's largest reverse migration and its political consequences have yet to play out.
As the recession deepens, both China and Russia face mounting unrest.
On December 4th Russian police raided a human rights organization in St. Petersburg which had been collecting Soviet records and ten days later the government announced that it was expanding the definition of treason.
China has all together stopped publishing numbers regarding demonstrations and riots. And in the third week of December the Chinese government began to block websites from outside the mainland – including the New York Times – although many have been restored now.
The rapid shifts in global events since this summer raise questions as to whether Russia and China really do offer an alternative development model that can compete with liberal democracy over the long-term.
To examine and debate this question, the New America Foundation will host discussion TOMORROW, Friday, February 6 from 12:30pm – 2:00pm EST with G. John Ikenberry and Daniel Deudney, co-authors of "The Myth of the Autocratic Revival: Why Liberal Democracy Will Prevail," which appears in the current issue of Foreign Affairs. Dimitri Simes, president of The Nixon Center and publisher of The National Interest, will offer his thoughts as well.
For those who cannot attend in person, the discussion will stream live on The Washington Note.

–Win Monroe
Continue reading:

Koh to L?
Chris Nelson: Daschle Had to Go