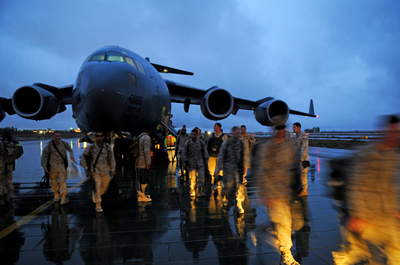 Win Monroe is a research intern at the New America Foundation/American Strategy Program.
Yesterday, Krygystan President Kurmanbek Bakiyev signed a bill ordering the closure of the US air base in Manas. The base, which helps transport 15,000 personnel and 500 tons of cargo a month for the war in Afghanistan, is the United States' last major air base in Central Asia.
Krygstan's decision to evict the United States coincides with the announcement of a massive Russian aid package to the country, though Russia denies any connection between the two events.
Just how important is the base to US operations in Afghanistan? An embassy inspection report from last year available on the State Department's website explains:
At best, it would be much more expensive to support coalition operations from another venue. The conclusion: the annual infusion of circa $150 million of U.S. funding for programs in Kyrgyzstan (equivalent to almost five percent of Kyrgyzstan's gross national product) is money well spent.
The report continues:
At present, all U.S. military forces moving in and out of Afghanistan transit through Manas, as does a significant amount of materiel. The presence of the base and the continuation of the conflict in Afghanistan are the essence of Kyrgyzstan's strategic importance to the United States.
The timing couldn't be worse. On Tuesday President Obama ordered 17,000 additional troops to Afghanistan.
Defense Secretary Robert Gates maintains that negotiations are still open with the Kyrgyzstan government, but a deal appears increasingly unlikely. Agreements have been made with Uzbekistan and Tajikstan for the transpiration of non-military NATO cargo, but not U.S. military personnel.
The Kyrgyzstan bill requires the withdrawal to be completed within 180 days. With few alternatives and the count down beginning, the future of the war in Afghanistan depends on the US finding a solution.

–Win Monroe
Continue reading:

Lugar Calls for a "Return to Realism" on Cuba
Cole Porter Gala in Pittsburgh