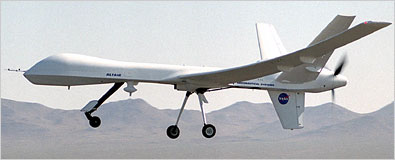 Katherine Tiedemann is a Policy Analyst at the New America Foundation.
The drone wars continue. This morning's Predator strike in Pakistani Taliban leader Baitullah Mehsud's hometown of Makeen, South Waziristan is the 25th this year (compared to six this time last year), and the fourth in the last two weeks to target Mehsud. A strike in late June missed Mehsud by just a few hours. And even though the Pakistani army carried out its own offensive just hours after this morning's US strikes, a spokesman for the Pakistani military said the attacks were not coordinated, and insisted that the American strikes are counterproductive to the campaign.
Pakistani objection to the use of airpower in war is no recent phenomenon. In the Third Waziristan War, fought in 1919 between the British army and Afghan rebel forces, the British used the Handley Page Type O, an early bomber, to attack Kabul from the sky. As they do 90 years later, the Pashtun warriors considered the airstrikes "unsporting," as historian Jules Stewart said at a Jamestown Foundation conference in April.
Late last month, the Pakistani army launched an offensive in South Waziristan, after around three months of fighting the Taliban in the Swat Valley (once known as Pakistan's Switzerland). My New America Foundation colleague Nick Schmidle argues that the army should work on clearing-holding-building in Swat before moving on to the Waziristans, and he's right–the Pakistani military has a history of somewhat half-hearted attempts at banishing its militant scourge, and so should focus on what they may actually be able to accomplish, one step at a time.
The CIA's drones program is likely to continue for the near term, as unpopular as it is among Pakistanis, because frankly, there aren't many other options.
— Katherine Tiedemann
Continue reading:

Guest Post from Jon Weinberg: Another Biden Faux-Pas?
Update on Honduras