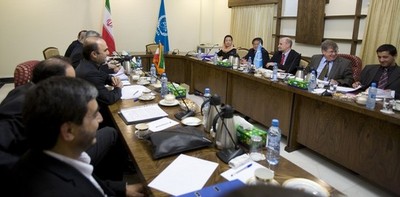 Faith Smith is a Research Associate at the New America Foundation.
Yesterday a top Iranian diplomat announced that Iran would stop enriching uranium if it was guaranteed a regular supply for their power stations. This declaration was greeted with skepticism by the top EU and UN negotiators who have been working with Iran on their nuclear program, but it does suggest that there is a constituency within the Iranian leadership that is willing to negotiate.
The sticks vs. carrots analogy has long been used when discussing Iran. Now, I'm not particularly fond of comparing any country to a stubborn animal, so I'll replace these terms with sanctions and military threats vs. diplomacy. I believe in the latter. Diplomacy works.
The brilliance of the Cold War is not how or why it ended, but that it went on for so long without a major flare-up. And I credit that to strong diplomacy. Yes, the US military gave backbone to the words of our presidents and diplomats, but in the end it was direct conversation with our adversary that made it a cold war rather than nuclear annihilation. Why have we been so quick to dismiss the diplomatic approach with Iran?
John McCain has declared repeatedly that negotiating directly with Iran is naive and dangerous. Instead he proposed forming a "League of Democracies" to deal with the threat of Iran. There are several problems with this idea.

First, there is little time to waste; Iran's regional influence and nuclear program continue to grow. The United States must engage Iran sooner rather than later, and forming international organizations is a long and arduous process.
Second, McCain's idea is not new or fresh, but a repackaged version of Madeline Albright's proposal for a community of democracies in 2000. The idea did not appeal to our democratic allies then and there is little evidence to suggest that it will now.
Third, the United Nations, has been conducting negotiations with Iran for years with nothing to show for it. It is time for the United States to play a more proactive role.
What about preconditions? The Bush administration said it will negotiate with Iran only if it halts its uranium enrichment program first. While we are concerned with Iran's human rights abuses, their support for regional terrorist groups, and the absence of an apology for the hostage crisis of 1979, the most pressing concern right now is their nuclear program. Why would the Iranians sacrifice their strongest bargaining chip before entering negotiations? The Iranians are much better negotiators than that.
It should be noted that Iran is willing to talk to us. No preconditions. Let's not forget the US imposed sanctions that Iran would happily do without. They could demand preconditions from us, but they haven't.
We want Iran to halt their nuclear program. But what does Iran really want from the United States? In one word: respect. Like every nation born of revolution, Iran wants legitimization. The fact that the US has never formally recognized the Islamic Republic remains a thorn in their side.
An agreement to meet, formally–no more backroom meetings–would be a great show of respect to the country and its citizens. Sanctions and rhetoric have done exactly the opposite of their intended goal. The more we try to push Iran into a corner, the stronger their resolve and regional support. The moderates in Iran are weakened by a stubborn US administration and Ahmadinejad is proven correct.
If a policy does not work, it must be revisited or scrapped entirely. There is no glory in sticking with a failing policy especially when failure is likely to lead to a nuclear arms race in the Middle East.
We must talk to Iran. The international community has been doing so since 1979, but not the US. Let's be clear, this does not necessarily mean talking to Ahmadinejad. There are alternative high level channels that are more moderate and approachable. In fact, Ahmadinejad might be out of a job soon. There may well be pragmatic presidents in both Iran and the United States before the end of the year.
To address a comprehensive plan for rapprochement, the New America Foundation will host New America Foundation/Geopolitics of Energy Program Director Flynt Leverett and Hillary Mann Leverett, who will discuss their new paper, "A Grand Bargain with Iran," Tuesday, October 7th, at 12:00 pm EST.
–Faith Smith