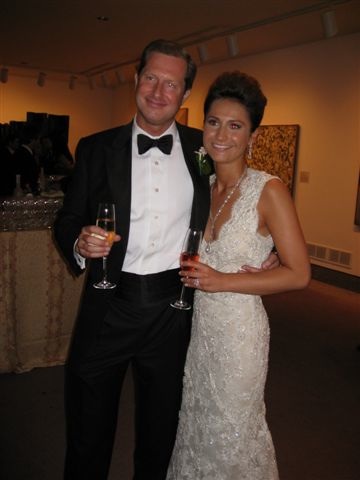 Last evening, I attended the moving wedding of my friend Mark Brzezinski and his beautiful new wife Natalia Lopatniuk.
The ceremony and dinner were held at the National Museum for Women in the Arts — which has a wonderful collection of painting and sculpture I had never seen before. Interestingly, Heather and Tony Podesta have donated a great deal of fabulous art to the Museum, much of which is on display in an exhibition titled "Modern Love."
Mark Brzezinski is a national security adviser in the Obama camp — and of course his dad is former National Security Adviser to Jimmy Carter, Zbigniew Brzezinski. His brother and best man Ian was a close adviser to Donald Rumsfeld who is now supporting John McCain, and his sister Mika Brzezinski is a news star at MSNBC.
But Mark's mom, Emilie Benes Brzezinski, was the real standout at the party last night. Emilie is a great sculptor at and 76 years old was the best dancer on the floor last night. And I was floored by what a great dancer Zbigniew Brzezinski is — far better than his sons who are good. (I'm lousy but try.)
I complimented him on the dance floor last night and said, "Zbig, you are a really great dancer." His predictable response, "Well of course I am — I've been working at it a long time."
But it was a terrific evening — and I wanted to congratulate Mark and Natalia on their next phase.
In related family news, monday will be the official release date of a new foreign policy book with which I have been involved, titled: America and the World: Conversations on the Future of American Foreign Policy.
In the book, David Ignatius interviews Brent Scowcroft and Zbigniew Brzezinski on what America needs to do to get its national security portfolio back in shape.
This book is a New America Foundation/Basic Books imprint — and I was pleased to have a hand in it.
More soon.
— Steve Clemons
Continue reading:

Freddie Mac and Fannie Mae SEIZED
Joe Biden: What We Didn't Hear. . .